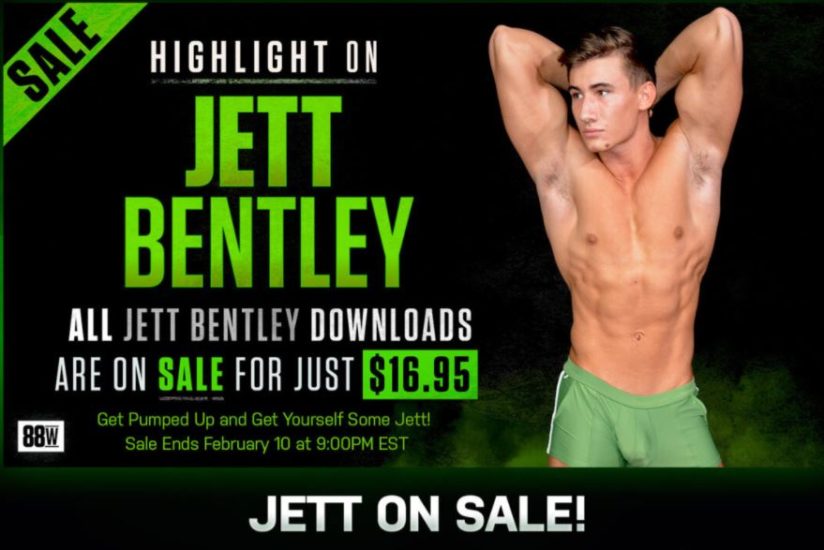 This morning I received an email letting me know that 88 Wrestling has put all their Jett Bentley matches on sale. I had nothing else to do until Super Bowl time except the NY Times Sunday Crossword — plus, how could I resist that TOTAL STUD flexing seductively in the advertisement?!
Then I saw that one of the discounted matches features a Two Against One punishment scene, which always turns me on, and I just knew I had to download King of the Ring 3. I'm so glad I live in a world where amazing hunks like Jett Bentley and Rex Bedford perform pro wrestling matches for my viewing pleasure — and for a discount to boot!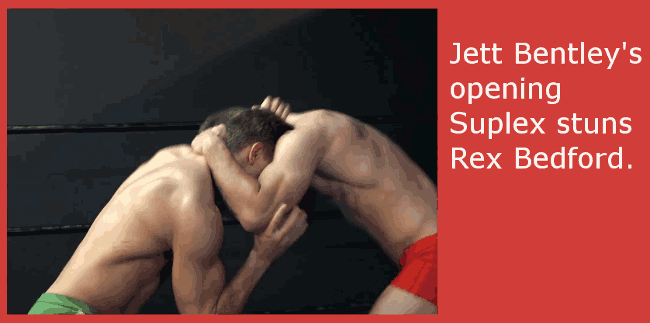 Rex is the current King Of The Ring, proudly wearing a championship belt around his waist as he enters the scene. As soon as the match begins, Jett puts the show-off on his back with a well-executed Suplex. Rex sells it nicely and I'm already happy I downloaded this one.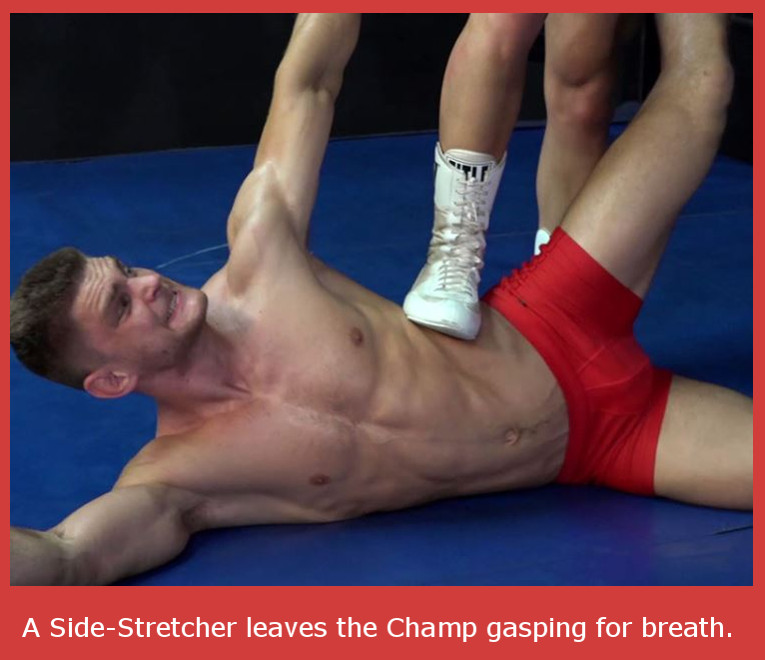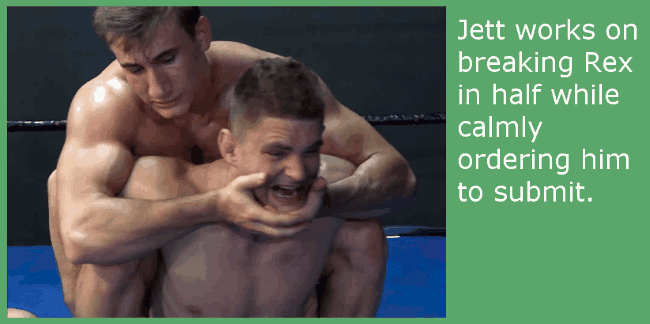 Jett dominates the action early in the match, but eventually Rex has had enough and he begins to fight back. Rex always seems so rough and punishing when he gains control — a real savage pit bull (I dig it!)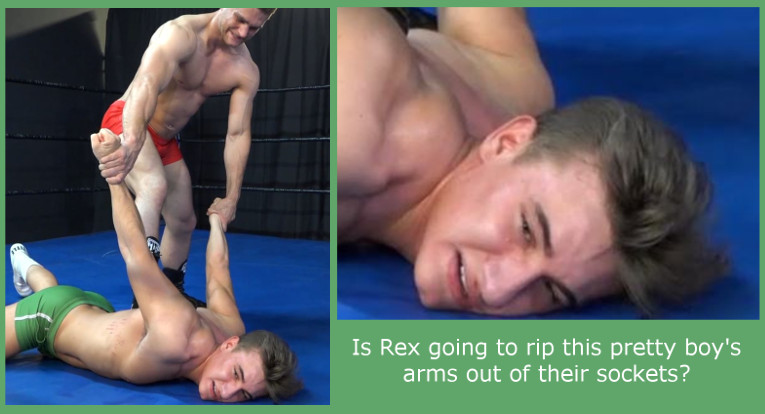 Rex wins the first fall and then he kneels on Jett and strikes this arrogant Double Bicep pose. I'm loving him right now — sic him, Rex!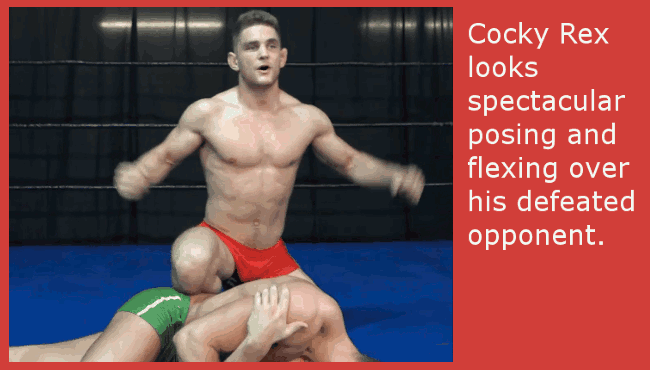 ---
It was at the 20-minute mark into this 27-minute video that things got most interesting. That's when Rex is torturing Jett in a prolonged Over-the-Knee Backbreaker, then Cody Everett storms into the ring to break it up. Now my Rex is in trouble and I'm on the edge. Of my seat.
A few of the images below, such as the following Tall Sock Headscissor — are actually from a different match when Cody fought Rex one-on-one, but I'm posting them here anyway to pretend this punishment occurred during the Two-on-One beat-down…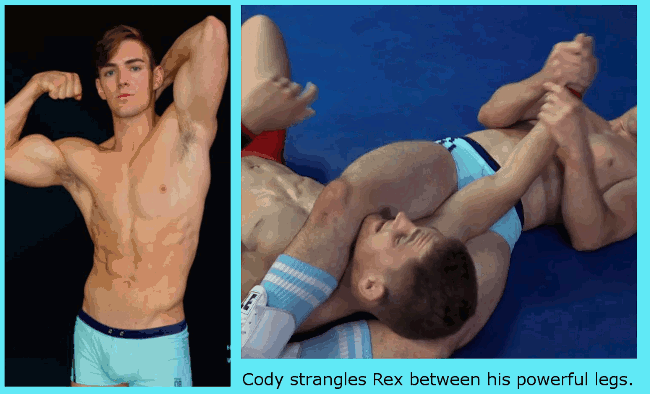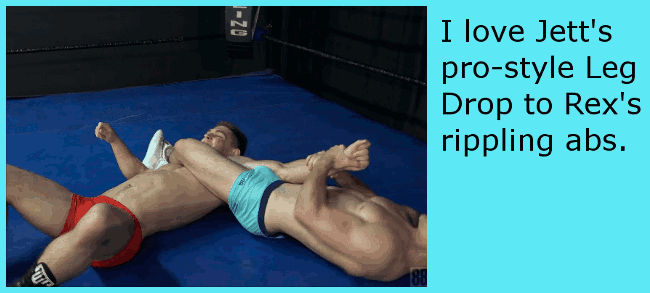 For a wonderful seven minutes, the two bullies take the cocky Champ down a peg by working together to dominate him. There is no ref and nobody to stop them from doing whatever they want to Rex. They make snarky comments back and forth, like: "Do you think he's had enough?" "No, I think he wants more." I like that kind of banter — nice job!
Probably my favorite double-team move was when they stretched Rex across their knees (a receipt for his earlier OTK Backbreaker on Jett) and proceed to punch and elbow his hard abs. Someone should've grabbed his bulge but I don't think they do that in 88 Wrestling.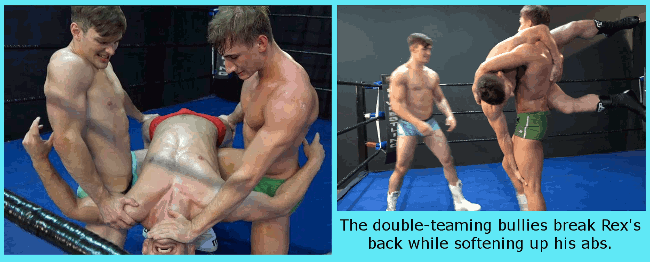 My other favorite scene was when Jett restrained Rex's arms in the corner of the ring so Cody could gut-punch him about 50 times. It's so brutal and unfair — it gets me every time.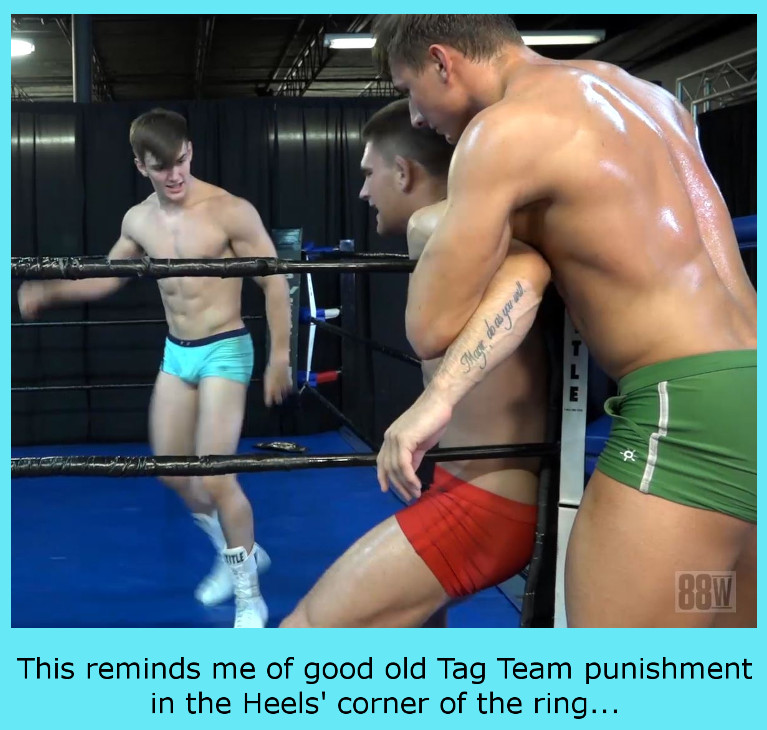 Rex is such a powerful force in 88 Wrestling — usually he kicks everyone's ass. But Jett and Cody have decided that, today, they're going to humble him and let him get in touch with his jobber side. What a degrading (and painful) predicament for this proud Champion! (and therefore, what a turn-on to behold.)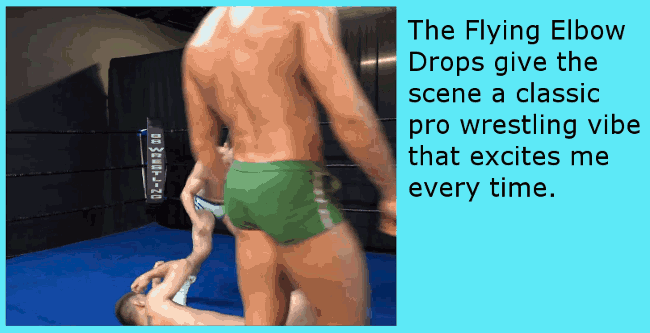 These gorgeous Flying Elbow Drops were a treat. The bullies are bound and determined to destroy the King's powerful abdominals! At this point, I lost my composure and found that I had to pause and recover for an hour or so.
I decided to turn to the Sunday Crossword to calm down, and you'll never guess what I saw for 101 Down…
So now the Crossword got me all worked up again and I decided I had to get back to the 2-on-1 torture!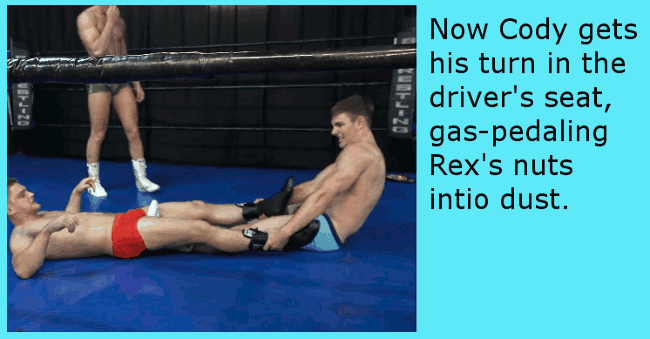 I need more of these hot 88 Wrestling guys in my life! In fact, I saw another video on sale where Jett fights his current partner, Cody. I think I know what I'm going to be doing if the half time show is boring…