If you subscribe to BG East's premium service known as The Arena, they give you one free video per week from their archives to stream and watch (and beat off to, if the mood strikes) for no additional cost.
Sometimes I don't bother checking out the free video if I predict that the match is not going to push my specific buttons. I'm pretty stuck on pro style action (in the ring, in just the right gear, give n take, big flamboyant personalities, etc.) However, this past week, BG East really hit the nail on the head for me by making available this classic pro style match where Josh Goodman gets dominated by Bulldog Barzini.
I bought this DVD (Demolition 12) back in 2007 when it first came out, so I knew this was a Must Stream match. I have not watched it in a long time (is it still in my Beat-off Box of old videos?), so I'd forgotten the details on who does what to whom. Therefore, I knew that re-watching it would have nearly the same erotic impact on me as the first time I viewed it 14 years ago. That's one good thing about your memory starting to fade as you age!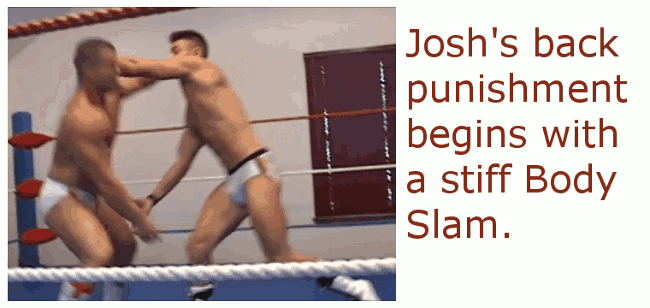 One thing I did not forget — both studs wear white trunks and boots, which earns an A++ from this reviewer. Bulldog is a relentless powerhouse, so swole and massive. I love checking out his XXL body and ass as he struts around the ring between spinal assaults on his jobber.
Obviously Joshua is breathtaking — totally ripped and hard-bodied, giving us plenty of peeks at that huge bulge in his trunks. He reaches in and adjusts it a few times — it must suck to have a gigantic pecker. After running his cocky mouth for the first few minutes, Joshua is soon crying out for mercy — a sexy humbling which is the stuff erotic wrestling is made of.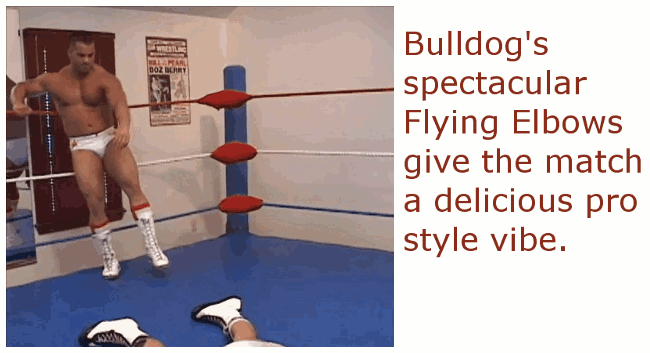 What I dig about Bulldog Barzini is that he looks, acts, and moves like an authentic 1980's pro wrestler. He knows (and uses) all the classic moves: Body Slams, Elbow Drops, Camel Clutch, Torture Rack. He evokes memories of the sort of rough, violent Heel punishment that drove me wild on Saturday mornings for decades. I think he's really cute too.
Barzini focuses his attacks on Josh's lower back and, of course, Josh sells perfectly.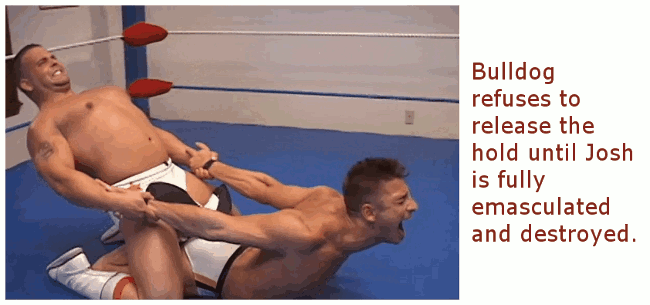 You may still have time to check it out if you have an Arena subscription. Or search through that box of old beat-off DVDs stashed under your bed or in the back of your closet — you might just have Demolition 12 in your collection already. If not, you can always order the DVD from BG East. There are a couple other really good pro matches on the same video if my memory serves me right.