Back on November 2nd, I was very pleased to see that the He Is Out! blogger posted a hot gallery featuring one of my all time favorites — Randy Orton.
Randy is just so sexy and appealing in my eyes, and He Is Out! always does a great job capturing the best and bonerest moments. I knew I'd get to see some great images of Randy in pain and HIO! certainly didn't disappoint.
Randy's opponent was CM Punk in this violent "Last Man Standing" match from the Extreme Rules event that took place on May 1st, 2011.
CM Punk is smaller than Randy, and Randy has those great abs, so it's unlikely that Punk could dominate The Viper. But the beat-down is made plausible when Punk fights dirty, flinging Randy's face into the bare turnbuckle and Russian Leg-Sweeping him onto a steel chair while ref just lets it happen. Extreme Rules indeed!
Speaking of steel chairs, probably my favorite moment of all wrestling moments in the entire year 2011 occurred when Punk trapped Randy's throat between the backrest and seat of this folding chair and then drove the chair into the corner post! Fuck THAT is hot!! Who thought of that?!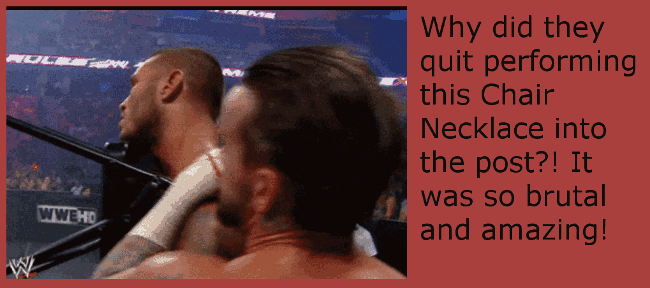 One great feature of the He Is Out! blog is the list of wrestlers in the left margin with a count showing how many posts each stud has appeared in. My blog doesn't do that (or maybe I just don't know how to set it up.)
Anyway, eager to see more Randy punishment, I located his name over in HIO!'s left margin and noted that there had been seven posts on my Randy! I had to go see them all, just to see if Randy had appeared as the suffering victim — the titular "He" — in all seven of his He Is Out! galleries. So here is a quick overview of the six other Randy matches that HIO! has studied thus far, with all of the following images swiped from the HIO! blog…
Randy's sixth appearance on HIO! was over a year ago on October 15, 2019. At the October 2, 2011 Hell in a Cell pay-per-view, Randy had foolishly locked himself in a steel cage with 300-pound Mark Henry. To my delight, HIO! focused on Randy's agony and abuse — not on the moments when he was in control and dominating Henry.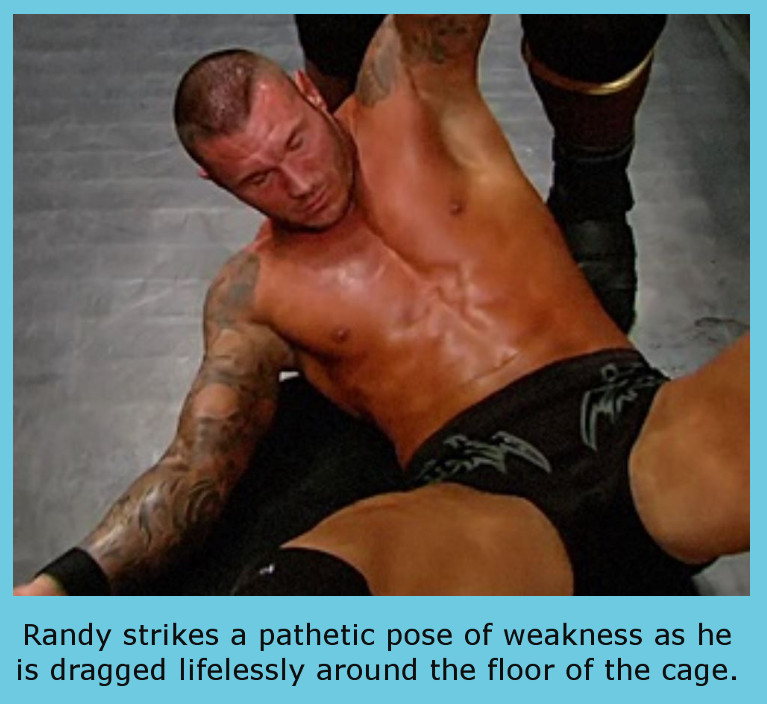 The "World's Strongest Man" locked my poor Randy in several devastating Bearhugs. Judging from his climactic facial expressions, Randy is either cringing in agony from having his ribcage busted, or he's busting a nut in his trunks as Henry squeezes him tighter. He suffers so damn pretty!!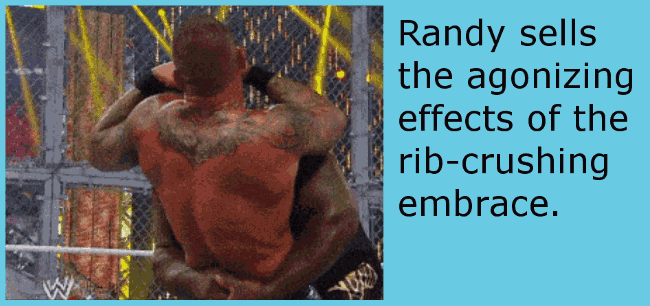 The subject of the May 31, 2018 gallery on HIO! was Randy's historic Face Turn (and Three-on-One torture scene) which occurred on the August 16, 2004 episode of RAW. After Randy had won a tough match to retain his championship, his older "friends" (Triple H, Batista, and Flair) joined him in the ring to celebrate.
The boss, Triple H (wearing a suit and tie like all prick bosses do) orders his henchmen to attack poor, unsuspecting Randy! I love how Triple H opens his dress shirt, then even strips it off entirely to work Randy over bare-chested.
I could've sworn I had blogged about this exciting incident back in 2004 when it happened, but I'm not finding it anywhere in my archives. It's great stuff, I'm glad HIO! captured it so well!
---
In his October 12, 2016 gallery, HIO! covered Randy's match against the Undertaker from WrestleMania 21, which occurred on August 3rd, 2005. Randy famously tried to apply a Tombstone, but the more-experienced veteran reversed it to show the rookie how it's done, Pile-Driving his young victim's skull into the mat to finish him off. HIO! provides us with several enticing views of Randy's pathetic demise.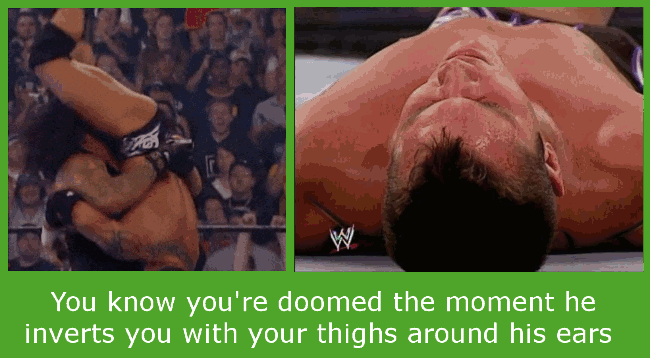 By the way, Randy is again the center of attention lately on Monday Night Raw. He is currently in a feud with Drew McIntyre (YUM!) as he's being stalked by the creepy "Fiend." I love when Randy is hunted like prey.
In fact, Randy is scheduled to wrestle McIntyre on this Monday's episode and I'm all excited and looking forward to it. It's like when I was a teen and they'd announce something like: "Next week on Big Time Wrestling, we'll see young Curt Hennig taking on Tim Horner. It's gonna be hot rasslin action, fans, you don't wanna miss it!" And after hearing that, I'd be horny and drooling all week long, fantasizing about what the studs might do to each other.
That's how I feel now waiting for this Randy-Drew match, which I'm sure is gonna be a big turn-on with tons of sexy suffering poses. If it turns me on, I will blog about it here for your viewing pleasure…
The third Randy Orton appearance on the HIO! blog, posted,on February 29th, 2016, was actually Randy's WWE debut against Hardcore Holly from 2002. This match depicts the classic veteran-vs-rookie cliche' with the jaded journeyman showing his young padawan the ropes and making him "pay his dues." Randy's impressive physique is put on display several times in this match, which you may enjoy if you're a wrestle-perv who's into that sort of thing.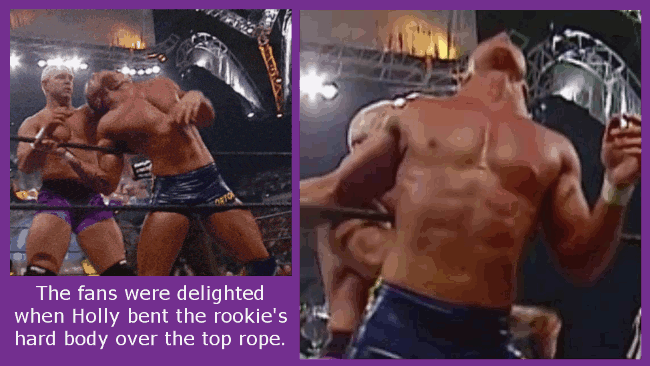 ---
The June 8th, 2015 episode of HIO! depicted Randy's sexually charged match against Triple H, which occurred at WrestleMania XXV on April 5th, 2009. You can watch the entire match (albeit somewhat blurry) on Dailymotion.
Wrestling fans are starting to refer to Randy as "The Legend" (a shortening of his earlier nickname, "The Legend Killer.") Some are also describing Randy as the Greatest Pro Wrestler of All Time. I won't disagree, and neither would my dick. It is definitely impressive how he's managed to maintain his spectacular physique and consistent sex appeal for 20 years.
If you go watch the nearly half-hour match on Dailymotion, you'll see that it was a back-and-forth see-saw battle. But in the images he selected, my man HIO! presents Randy as a weak, helpless jobber, never able to gain control over his nemesis. I certainly like it better that way — that's what usually happens in my fantasies, too!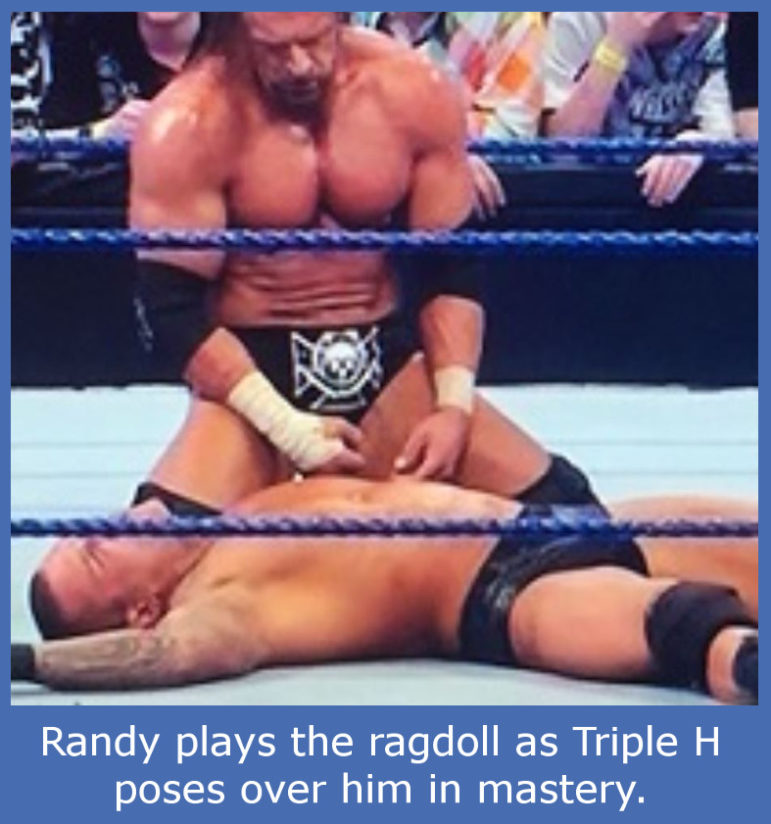 And the very first time that HIO! covered Randy Orton was in his May 20th, 2015 gallery. The Undertaker again dominated young Randy, this time in a bloody Steel Cage match at the Armageddon pay-per-view on December 18th, 2005.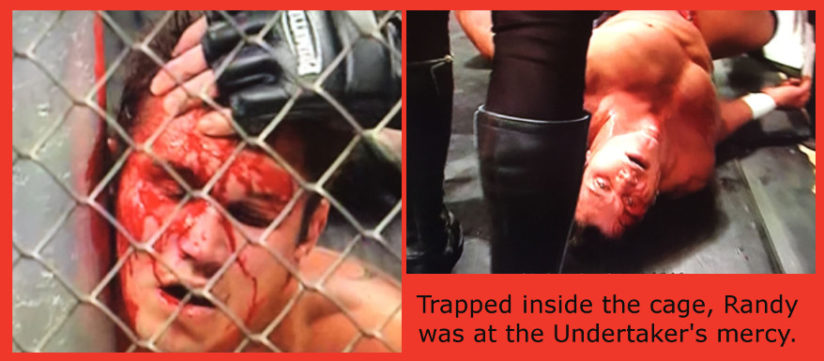 They positioned Randy' father, Cowboy Bob Orton, just outside the "steel torture chamber," watching in frustration just a few feet away but unable to rescue his suffering boy. You can watch this brutal and dramatic match on Dailymotion. Randy is spectacular and gives me a boner per usual.
Well there you have it — the seven Randy Orton matches that have been featured on the wonderful He Is Out! blog thus far. As I suspected, Randy is featured as the pathetic "Out!" wrestler in all seven of his appearances on HIO! Let me recap the history and the manner in which Randy was depicted in these galleries by creating a little chart, just because I like making little charts to get organized and draw conclusions:
| | | | |
| --- | --- | --- | --- |
| # | HIO! Gallery | Match Date | How Randy is Depicted |
| 1 | 5/20/2015 | 12/18/2005 | Bloodied and beaten |
| 2 | 6/8/2015 | 4/9/2009 | Utterly mastered and conked out |
| 3 | 2/29/2016 | 4/25/2002 | Bent and broken over the ropes |
| 4 | 10/12/2016 | 8/3/2005 | Pile-driven road kill |
| 5 | 5/31/2018 | 8/16/2004 | Gullible, triple-teamed chump |
| 6 | 10/15/2019 | 10/2/2011 | Caged squeeze-toy |
| 7 | 11/2/2020 | 5/1/2011 | Whupped by a smaller dude |
Conclusions: HIO! gives us a Randy gallery about once per year on average. And I was correct: it's all humiliation and suffering all the time for poor Randy in these galleries. HIO! has focused entirely on the first half of Randy's 18-year stint in WWE (all of the featured matches are from 2002 to 2011.) Perhaps, just like most wrestling fans, HIO! prefers his Baby-Faces on the younger side.
But I can attest that old Randy's suffering is still amazing to this day, as I'll hopefully witness on Monday night! (Can't WAIT!) No wonder he's the Greatest Pro Wrestler of All Time!