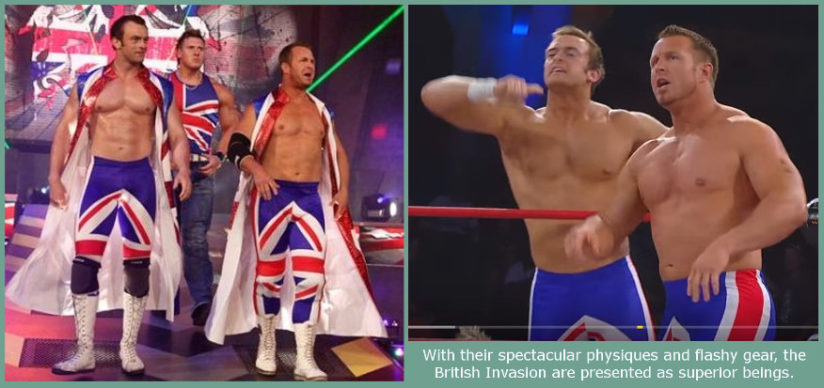 In 2009, some buff British hunks known as British Invasion tried to take over the TNA wrestling federation.  "Invasion" was a nice choice of words, suggesting they were invading not only our country, but also perhaps their opponents.  And these invaders are clearly better than us — our new lords and masters.   Wouldn't it be kind of fun to worship them and take orders from them?   The hard bodies on these swole studs were made to seem even more incredible in their fancy, expensive, brightly colored tights.
Recently their match from the 2009 TNA Sacrifice show was posted to YouTube for our viewing pleasure.  Their opponents are Beer Money, James Storm and Bobby Roode, who wore snug green trunks for the occasion.
The British team is presented as superior gentry with their perfect bodies and gorgeous costumes.  Our scruffy American heroes, Beer Money, are a bit chunkier, a bit less polished.
The great equalizer between the teams is the use of Ball Busting by the scrappy Yanks.  For example, early in the match, Roode stuns Williams with this nut cracker.
---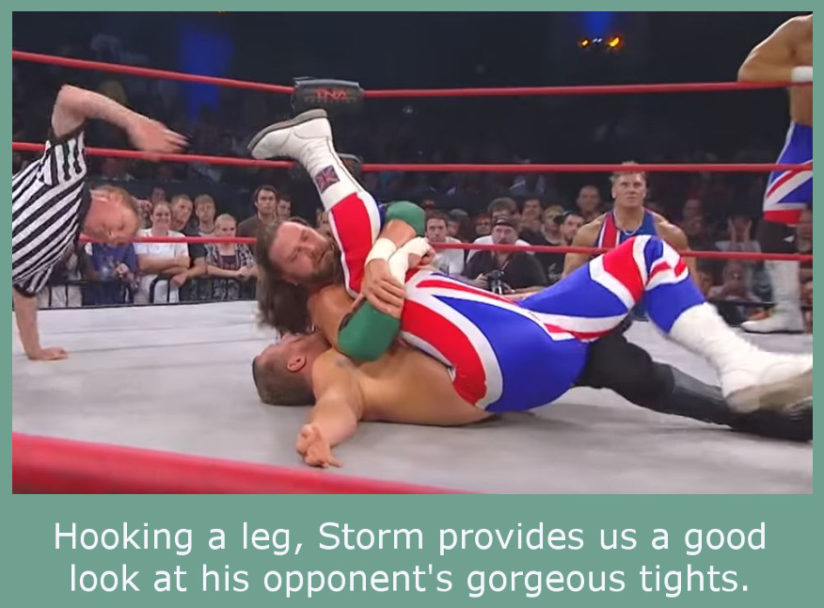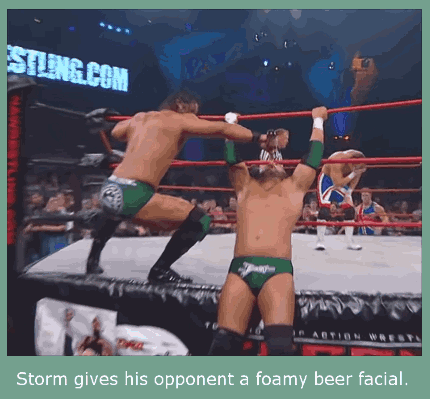 We were taught that American patriots won independence using clever guerrilla tactics against the orderly British infantry.
In honor of yesterday's  holiday, we see history repeat itself as the Cowboy blinds his opponent by spewing a mouthful of beer in his eyes.  This transfer of foamy fluid from Roode's can, to Storm's mouth, to Magnus' face also adds a homo-erotic tone.
---
T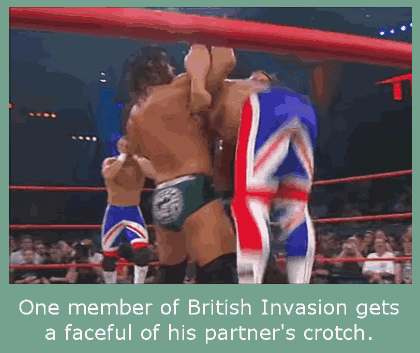 he  wild antics of the American freedom fighters continue as they toss Williams' testicles into Magnus' face.
The audience senses that these Brits think they're better than us: stronger than us, prettier than us, more intelligent.  So to see them Ball Busted and Tea Bagged is a wonderful come-uppance.
---
B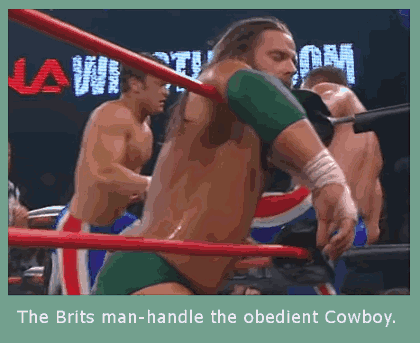 ut the British Invaders fight back, taking control of James Storm who quickly assumes the role of Ragdoll.
Check out Doug Williams just owning the helpless Cowboy, yanking him by the hair and Body-Slamming his ass.  I dig this unusual camera angle, looking down on the action.
---
"Cowboy" James Storm is an icon of beefy red-neck American masculinity with his thick build and dark beard.  The "Cowboy" gimmick always implies grit, independence, and courage.
Yet the instant an opponent lays a finger on him, Storm collapses into a heap of helpless jobber flesh.  It is beautiful, as if the opponent has injected him with sleeping potion.  And Storm seems to enjoy being under the control of stronger men, almost always playing the Face-in-Peril for whatever Tag Team he is in.  I love his work and his jobbery antics — I love a submissive wrestler who allows his opponents to do whatever they wish to him.
---
Storm treats us to a nice Face-in-Peril suffering scene, his British overlords just molesting him as he sells his exhaustion and weakness.
Big Rob Terry, watching from ringside, even gets involved in this weak Cowboy's punishment.
---
The Americans regain their dominance by again emasculating their uptight British opponents, using a Drop Toe-Hold to slam Williams' forehead into Magnus's balls.  It's funny and erotic at the same time.
---
We've often seen British Invasion portray this Cock and Ball Torture (CBT).  Here is an animation from one of their other matches against the ball-busing Beer Money guys, where the Brits signal their queer tendencies with some prolonged 69 positioning.  The Brits are more than happy to play the fools.
---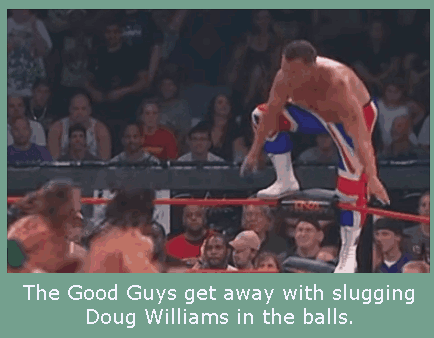 CBT is an exciting fetish for many guys because of the power dynamics — the ease of domination by the ball buster, the utter helplessness of the victim.  We also get the sense that the nuts may be damaged, ruining the victim's chances to have sex, thereby neutering him or making him less than a Man.
This match (indeed all of the matches between these teams) played into the appeal of the CBT fetish as the power is transferred from the swole Brits to the naughty-but-lovable Americans each time they bust some British nuts.
---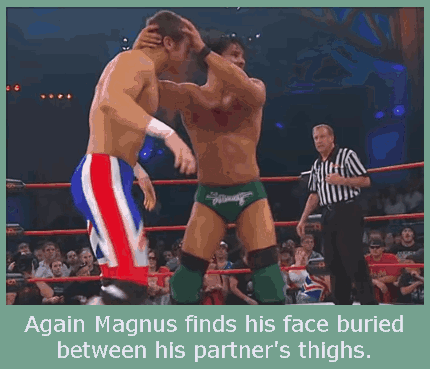 When one partner's forehead is slammed into the other partner's scrote, they are both degraded.  One is made to look like a neutered bitch, and the other like a cocksucker.
The frequency that this happens to the British Invasion dudes implies that maybe they're both into it.  They sure seem to get off on CBT play, taking turns gripping their manhood in agony.  This turns the silliness of this performance into implied kinky sex-play between two perverted partners, and I'm sure fueled the boners of many CBT fetishists watching this kinky show.
---
The CBT abuse proves to be more than the Brits can endure.  Bobby Roode spreads his thighs for us while pinning one of the busted British eunuchs.   Our take-away is that, the American men might not be the prettiest or most buff, but they've got the bigger, stronger, less fragile Manhoods and therefore they stand as the Big Swinging Dicks in the ring.
---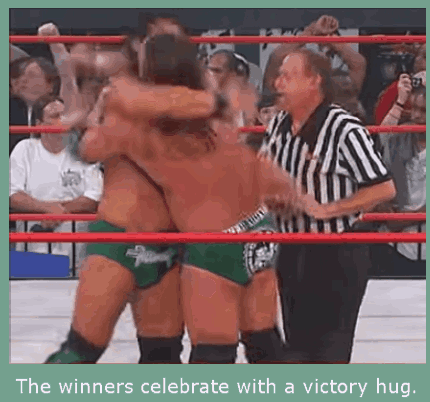 A final Bro-Hug confirms the superiority of the Americans.  Their hug is supportive and pleasurable, in contrast to the British Invasion embraces from earlier, which were twisted and salacious, involving sexual positioning, public humiliation, and painful testicular abuse.  How much better to be in a healthy relationship like Beer Money rather than a kinky and abusive relationship like the British Heels.
---