Whoa damn, is it just me or are Indy wrestlers getting hotter lately?  These two future Super-stars fought for the championship belt in this video from Paradise Alley Pro Wrestling, uploaded a few months ago to YouTube.
Richard Holliday is wearing the blue pin-striped trunks that remind us of a New York Yankees uniform.  Mik Drake is wearing the maroon and gold number with the diagonal stripe pattern.  Both studs are super buff and manly and I am feeling pretty excited for this match even before the bell rings.
---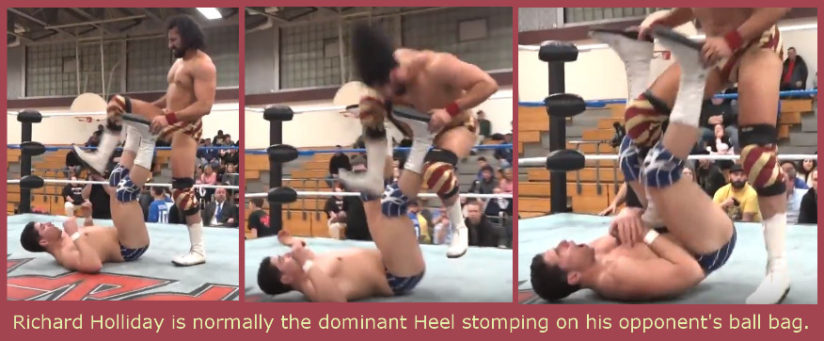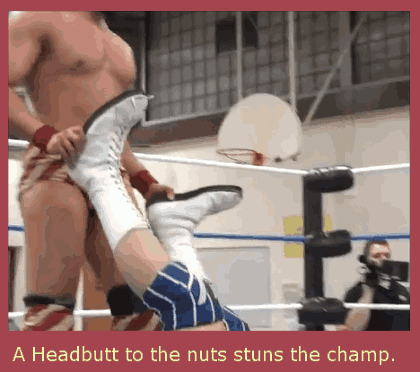 Drake is disrespectful and arrogant, pie-facing the Champ to start the bout and later spitting right in his face.  He drives his forehead into the helpless dude's crotch — totally nasty Heel shit, and I'm suddenly crushing on Mik Drake.
Both wrestlers are normally Heels, so Drake lets us know he's the Uber-Heel.
---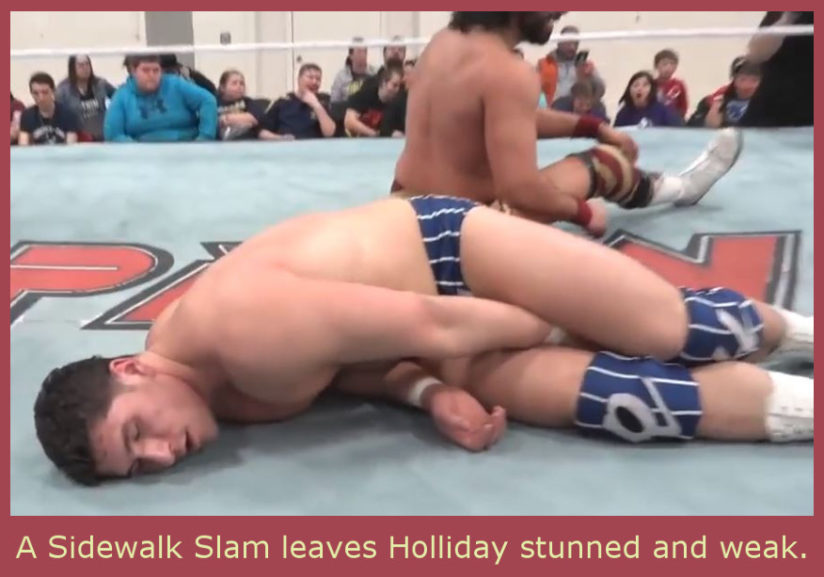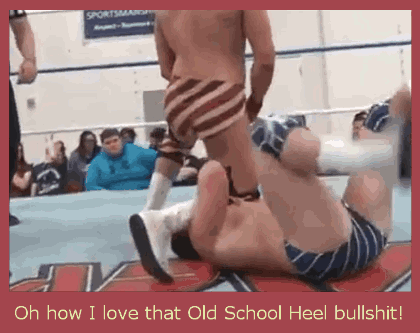 This is my first time writing about Mik Drake, and I'm loving what I see.  He looks a bit like Bruiser Brody.
He is a smart Heel, very smooth and polished in the ring, and he uses tons of sexy Dickhead Heel tactics, like the good old: "What Ref, I'm Just Kneeling Here Not Doing Anything Wrong!"
---
Drake appeared on the last episode of West Coast Wrestling Connection, attacking poor Dicky Mayer at the end of the show.   So I hope to see more of Mik Drake on future shows, beating up all the young studs that have joined WCWC like Clark Connors, Dusty Gold, and Adrian Matthews.  Mmm, I can't WAIT!
---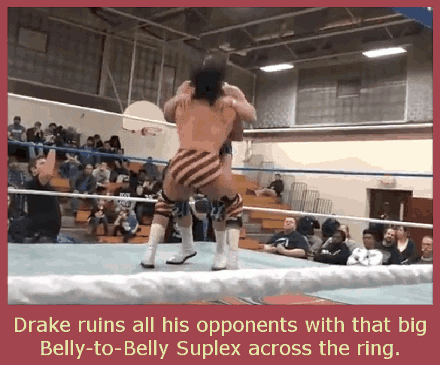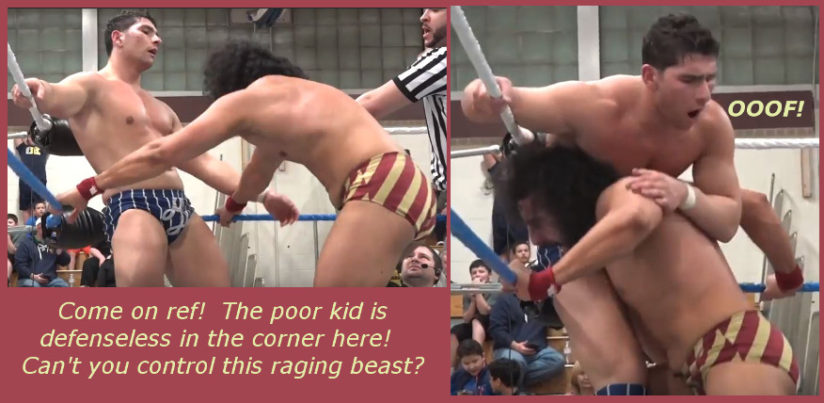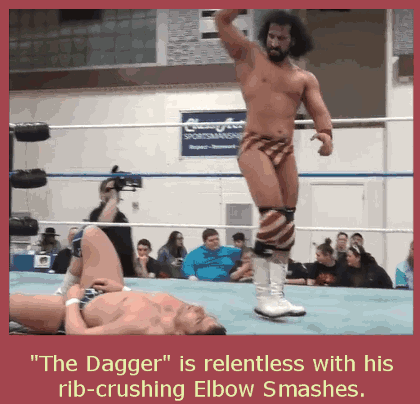 I have blogged about Richard Holliday before and his fine asset in those snug blue trunks.  He really plays the Suffering Ragdoll in this match, eating everything Drake dishes out.
I think Holliday, normally a Heel, is doing a Face Turn, getting us to fall in love with him by acting vulnerable.  I think he will make a fantastic Baby-Face — he is sure cute enough.
The last time I wrote about Holliday, he was wrestling another Heel, and he remained Heel while the other guy turned Face.  Now it's Holliday's turn to show us what he learned from that, suffering beautifully while the stronger, more aggressive male works him over without mercy.
---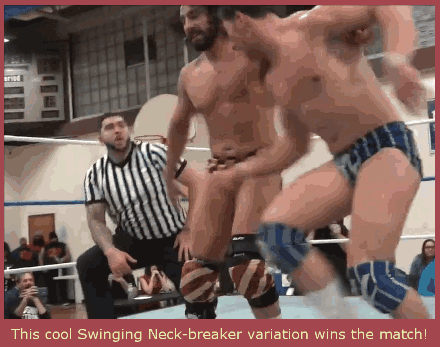 Holliday shows us he has heart, as every Baby-Face Hero should, fighting back after all that punishment to defeat Drake with this sweet Twisting Leg Flip thingy.
Way to go Holliday, our Hero!
---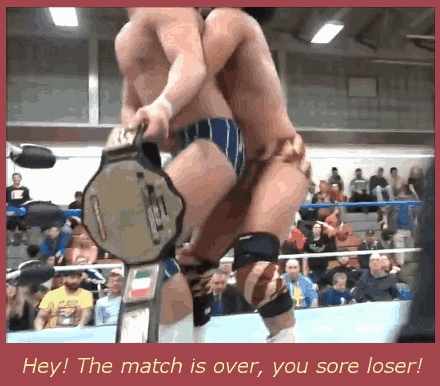 But Mik Drake is not finished yet.  Long after the bell rang, he assaults Holliday from behind, injuring him in this painful German Suplex.  (Like I said, Mik Drake is a great Heel, truly understanding how his cruelty and arrogance can really stir up the audience.  I am now a big Drake fan and I don't mean the pop singer.)
---
Before poor Holliday can recover from Drake's illegal assault, he is challenged by another Heel — this "Showtime" guy in all black gear.  For some reason, he is allowed to challenge the Champ any day, any time.
A picture-perfect Superfly Elbow Killer off the top rope has me very impressed with Showtime too!
---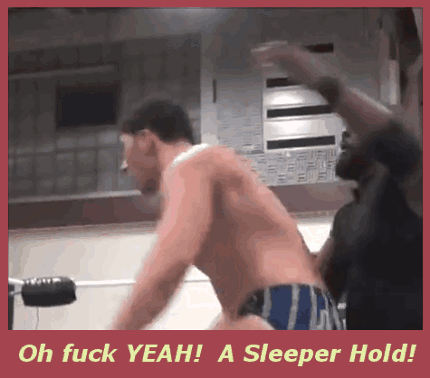 Then Showtime snatches the Champ in a Sleeper and proceeds to put the shirtless pretty-boy out cold!
Way to go Paradise Alley Pro Wrestling!  Thank you for this old timey torture and wonderful post-match Unfair Abuse.  How did you know I love Sleeper Holds?!
---
Actually Holliday may have escaped the Sleeper and Showtime may have defeated him using some other move.  But in my version of the story, the Pretty-Boy is drained of all his strength and forced to take a nap in this relentless, unbreakable Rear Naked Choke!
And PAPW has a new reigning champ in Mr. Showtime.  I suppose we can't have our top Baby-Face — which is now apparently Richard Holliday — enjoying too much success and victory.  It's better if he is made to struggle and strive and suffer, and never win!
---
I loved this last insult by Showtime — kicking the former champion right out of the ring and down to the floor, like he's taking out the trash.   Ha ha!
Richard Holliday rolls out obediently like a jobber, knowing he has been emasculated, knowing he had better not try to stick up for himself.  Enjoy your new position at the bottom of the pecking order, bitch!