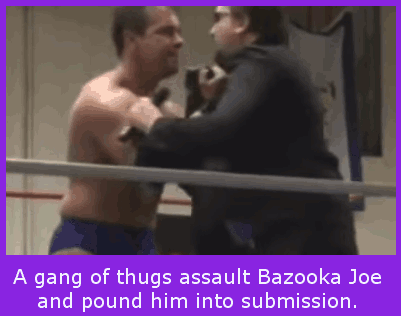 When I blogged recently about video clips of Jessie Godderz being abused in the ring, I mention that we need to work together to post suffer-porn videos of all the other hot ass wrestlers.
One of my loyal readers then emailed me to let me know that the video of Bazooka Joe (aka "Hard Candy") being crushed is already done.
---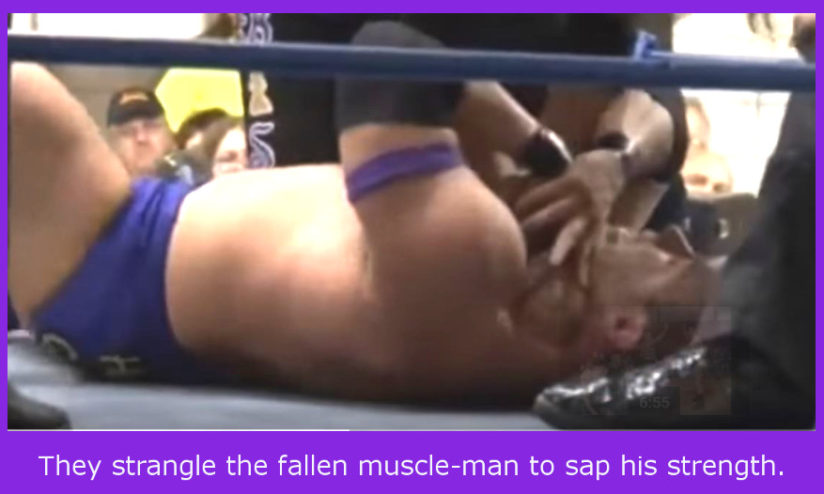 ---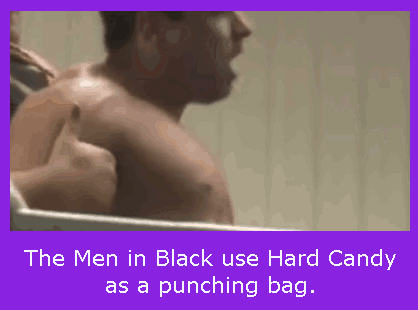 The video begins with Bazooka Joe in purple trunks suffering a prolonged 5-against-1 beating at the hands of a gang of thugs in black gear.
I guess if you have "Hard Candy" printed across your ass and strut around flexing, you should expect to be mistreated and abused by other men.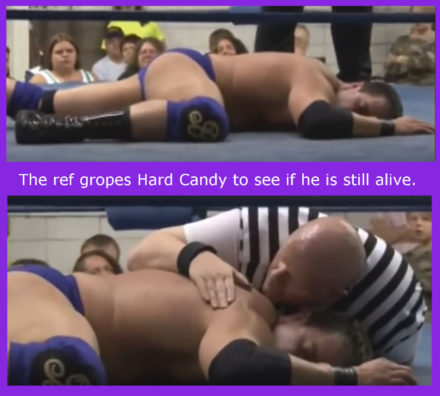 Here is how my reader described this homo-erotic suffer-porn video:
"I thought I might share with you a YouYube video of hot ass wrestler Bazooka Joe (Hard Candy).  The guy who cut and edited this video for me did a great job of poor Joe suffering. Being used and abused. great JO material for me. I hope you enjoy it!"  (Indeed I do.)
---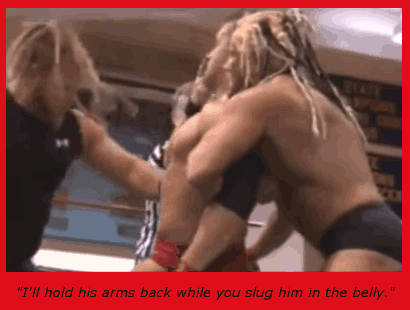 We next jump to a Handicap Match — poor Joe in red panties, all alone in the ring against two killers with long dreadlocks.
Much like the Men in Black above, these two Rastas work together to gut-punch Hard Candy.  Joe doubles over in agony and I'm getting that dizzy, intoxicated feeling.
---
---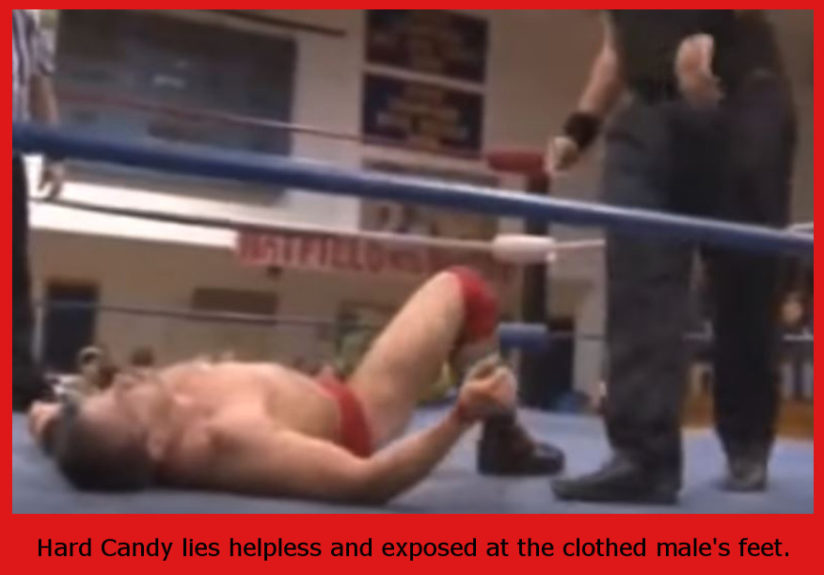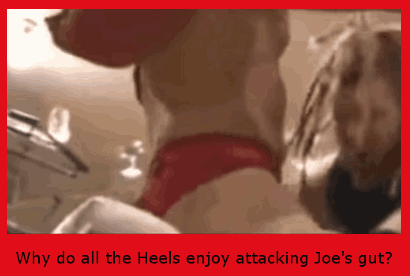 I'm not sure WHY audiences always love to see the best looking stud manhandled and abused, but I just know that they do.
Bazooka Joe knows it too — willingly sacrificing his self-esteem to be decimated night after night for the audience's twisted viewing pleasure.
---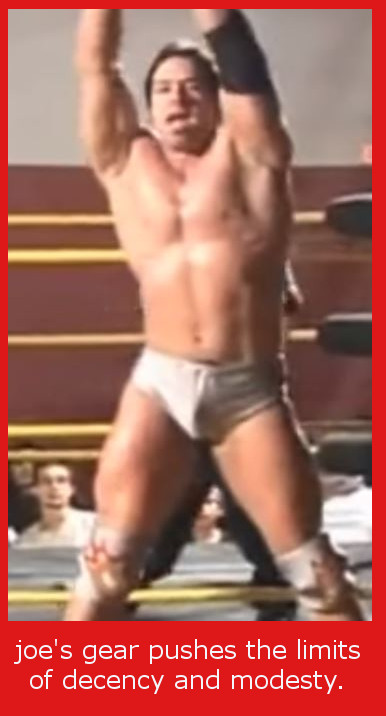 The final Bazooka Joe scene in this video features him begging for trouble by flexing his guns while clad in a bulging pair of shiny silver trunks.  Amazing!
If you're into Bazooka Joe's performances of anguish and vulnerability, check out my 2/4/15 article where I wrote about him being crushed and even Bear-Hugged by a massive Heel named Big Bad John.  Like most Bazooka Joe matches, he really gets owned and looks fantastic while doing it.
If someone out there plans to create a YouTube channel to capture all of Joe's great suffering (similar to the Jessie Godderz Fans channel), please remember to include the Big Bad John match.
---
They always depict Hard Candy in an unfair situation, such as being out-numbered.  In this final torture scene, Joe must fight against a giant of a man who is presented as twice as strong as poor little Joe.
I thought this crisp, clean Sidewalk Slam by the big monster was a beauty so I had to GIF it.
---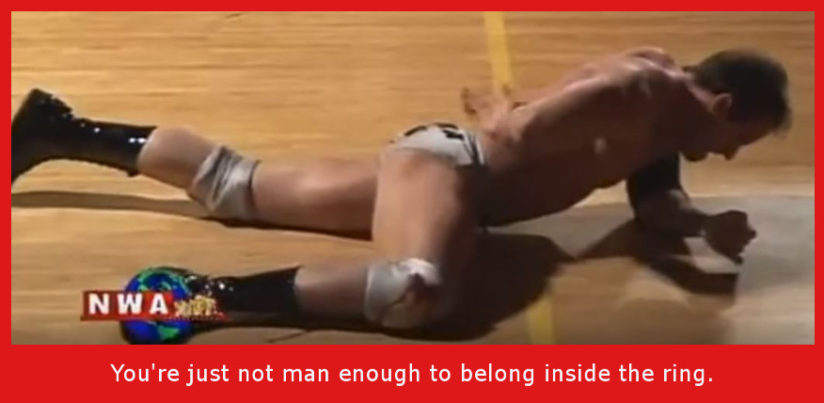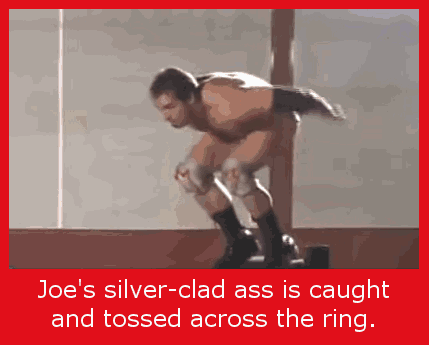 Maybe the match was not really this one-sided.  Maybe Joe fought back and even took control once in a while.  But similar to the Jessie Godderz suffer-porn, the video editor cut out any evidence of our hero's success, leaving the impression of a humiliating one-sided defeat.
This is the beauty of modern video editing software.  We are now able to re-write history, changing the situation to make the beatings more painful and one-sided, the suffering more epic.  We are able to insert ourselves into the situation by prolonging the pain, repeating the most crushing blows, slowing down the pace, and zooming in on the humiliation.  These edits fetishize the Good Guy's agony, which makes all the difference between a plain old wrestling video and suffer-porn.
Joe's hard body wears out after all this punishment from all these different Heels.  By clipping these scenes together, it feels like eight different guys took turns punishing him in one night, which would be a fantastic gauntlet match.
Thanks T. for the heads up on this very enticing video!