One of the YouTube channels I follow has been posting a series of NWA episodes from 1988. The video quality is excellent — these are real treasures. Those were the days when you looked forward to weekends, partly because you didn't have to go to school, but mostly because wrestling was on cable television for hours and hours.
1988 was the Golden Age of the Jobber Squash match! The federations saved their competitive matches for big arena events and Pay-Per-Views, using their television time to feature mostly one-sided beat-downs.
As long as we're watching dudes getting tortured, they may as well be handsome and sexy dudes, amiright? So there seemed to be a competition to find the hottest jobbers and I think the NWA won that contest in the 1980's. They featured the most appealing whipping-boys like Joe Cruz, Curtis Thompson, Tommy Angel, Ricky Nelson, Rocky King — I'm getting boned just from typing their names! The NWA seemed to understand that, if they couldn't excite us with competitive back-and-forth battles on their television program, they could excite us in other ways.
One of the jobbers I most enjoyed was Trent Knight. His body, man — I can't hardly look at it without getting turned on. He had a lean physique and long legs, rugged good looks, and he wore a trademark red speedo with white jobber boots. I've been scanning these video uploads to seek out Trent's most humiliating moments of abuse and punishment. Here are a few that stand out.
3/19/88 – Trent Knight vs. Ron Simmons. Watch for Simmons entangling his thick python leg around Trent's skinny arm, ready to bust it. And enjoy the brutal Power-Slams.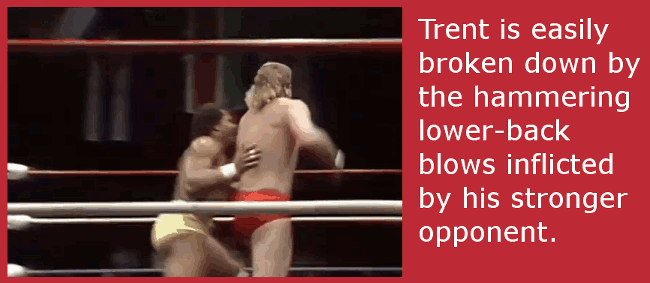 Ron Simmons looks so powerful and thick in comparison to the jobber. Even the commentator is inspired to remark "This is like a MAN in the ring with a BOY — not to take anything away from Trent Knight." Well you just took everything away from Trent Knight, namely his masculinity…
The match gives you the impression that Simmons can do anything he wants to his helpless and submissive "boy". Yes, anything.
4/16/88 – Tag Team match – Trent Knight with George South vs. Midnight Express. I'm sure you're aware that I'm a sucker for Double Teaming — and the Midnight Express give me a nice big dose of it. And they're so wonderfully cocky about it. Oh poor Trent!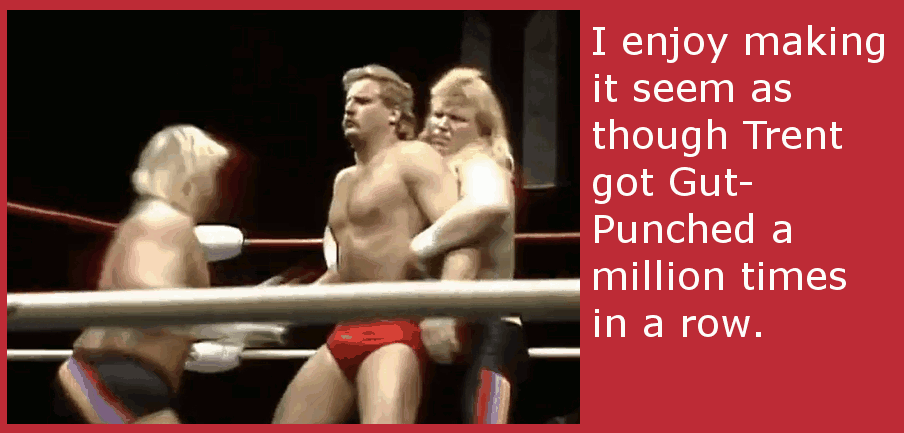 It has become fashionable to mock the "Mullet" hairstyle that was popular in the 1980s — business in the front, party in the back. But I recall that hairstyle was the fuckin LOOK for studly guys, the hotties who had the balls to wear it. And Trent Knight rocks his bi-level haircut — I love a dark beard paired with dirty blond locks.
7/16/88 – Tag Team match – Trent Knight with Tommy Angel vs. Arn and Tully. Another great Tag Team match. Trent is not in the ring long — his partner Tommy Angel takes most of the abuse (and I'm not complaining — Tommy Angel is also a personal favorite!)
Anyway, the few moments that Trent is in the ring are extremely humiliating and wonderful. The minute he steps between the ropes, Arn Anderson boots him in the gut, then wrecks him with this stiff and brutal looking DDT. That's it. Loser Trent is out.
Then Tully tags in to pin the wimp AND STANDS WITH ONE FOOT ON HIS CHEST rather than pinning him by laying on him! It's so disrespectful and degrading. Why do all the popular wrestlers enjoy emasculating Trent Knight so much? (Do they somehow know how much it turns me on??)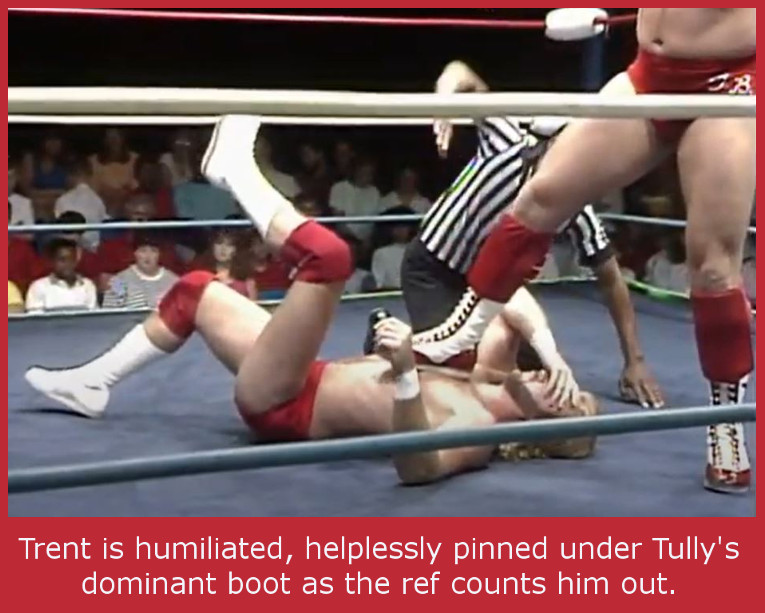 In researching this gallery, I learned that there was apparently a Trent Knight trading card. Why would they make this card?? What kid would want to collect the jobber cards? (Except for the little gay dudes who want to drool over them and take them home to look at under the covers after everyone else is asleep…)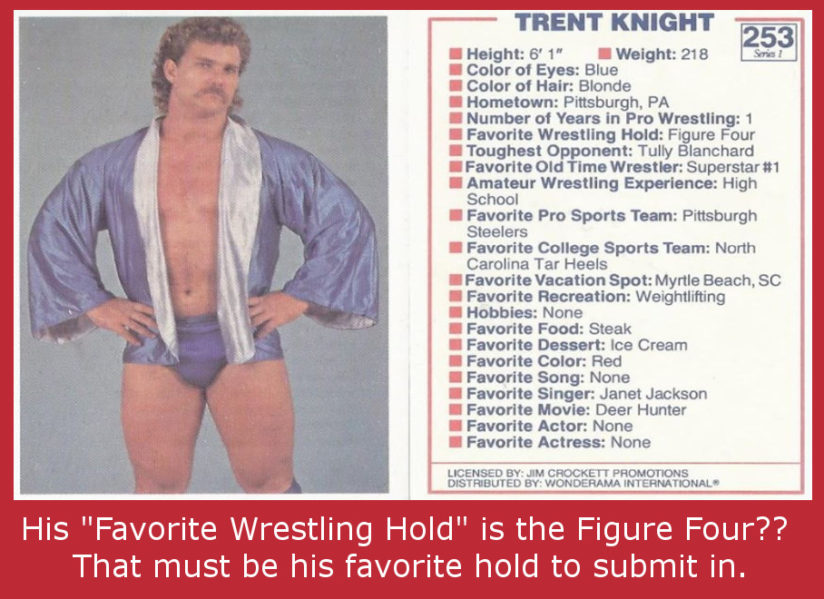 My friend: Oh shit, I got a fuckin TRENT KNIGHT card in this pack!! What a SCRUB!
Me: I'll trade you my Honky Tonk Man for Trent! (I'll take Tommy Angel and Curtis Thomson too if you have them…)
7/23/88 Trent Knight vs. the masked Russian Assassin. This is perhaps the most brutal, one-sided, and abusive match of the batch. The Assassin seems to enjoy pulling hair, entangling his fingers in Trent's long hair to smash his face into the corner.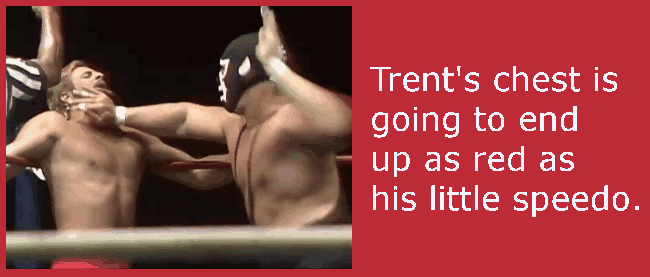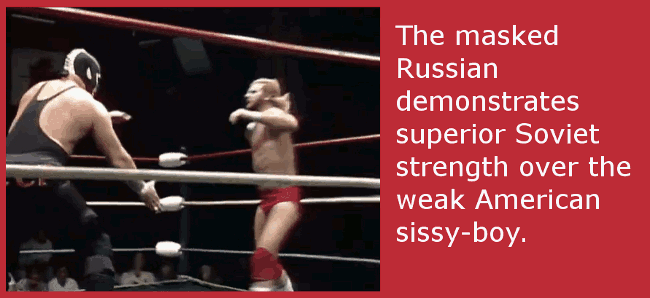 I've noted that, whenever Trent lands on his back, he always lifts his left leg high into the air. You can see it in several of the images above. It seems to express his agony, like OW my back hurts so bad, I need to lift a leg to relieve the pain. But it also provides perverted fans like me a peek at his bulge.
And what jobber beating would be complete without tossing his weak ass outside the ring for some abuse by the manager out on the floor…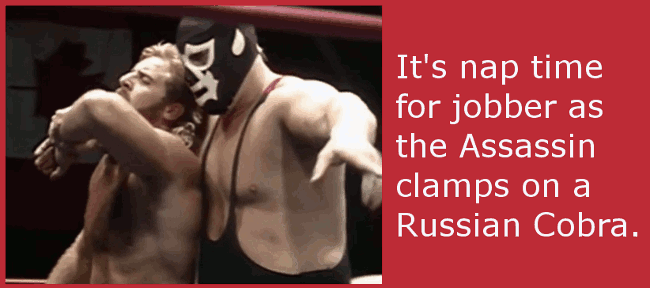 According to one of those match statistics databases, Trent wrestled 97 times in his career and lost 94 of them. (I'm wondering what three total pussies he actually defeated.) That's gotta be hard to stick with a sport where you lose almost every time, but I love him for it.