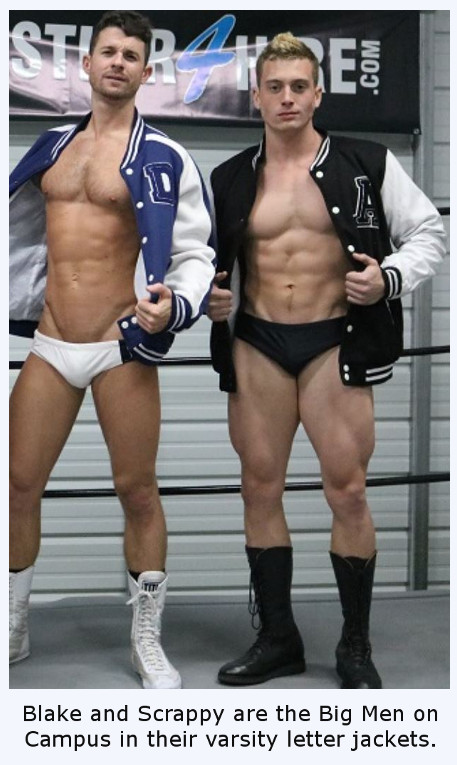 Right after UCW posted a rare Tag Team match (which I wrote about a few days ago), Wrestler 4 Hire also presented hot Tag Team action featuring these jocks in letter jackets — Blake and Scrappy.
Blake is the leaner, taller athlete in the white speedo.  I think his varsity letter is for either swimming or diving. The swoler Scrappy in the black trunks and boots probably plays football and wrestles.
How am I so lucky that I get to see two underground Tag Team matches in a week?!   Hopefully this is a sign of greater support for 2-on-2 scenes in the wrestle-porn space.
---
The opponents for Team Varsity are these beefy bullies in red trunks — Austin and Braden.  They're sporting "big red packages" just like the Heel team in my previous article.  I guess big red packages are the official look for the Heel team in underground wrestling.
The Team Red bullies are presented as larger, older and more experienced fighters who perhaps never went to college.  We get the sense that they're the local townies who work ten hours a day lifting heavy objects at the factory and would love to go down on campus to teach the cocky, privileged young varsity jocks some respect.
---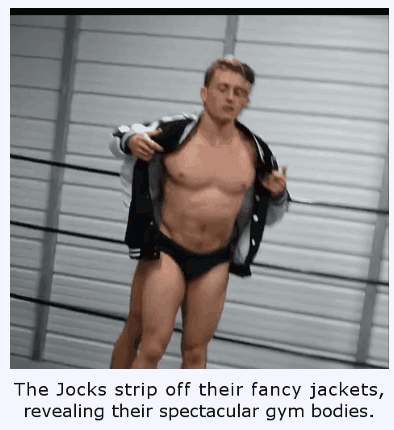 Blake and Scrappy peel off their cool letter jackets to reveal their lean, athletic physiques, which were built on numerous two-a-day practices full of jogging, burpies, push-ups, medicine ball bouncing, and whipping those big thick ropes up and down.
They look sporty– but can they fight?  How will those muscles fare in the rasslin ring?
---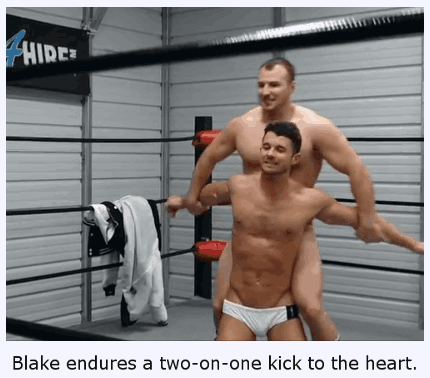 To my delight, the Red Team quickly tears apart the Varsity Show-Offs.  The match is fan service for anyone who was jealous of the cool jocks in school who acted so entitled and arrogant.  How badly we craved seeing some stronger, manlier brutes teaching the cocky jocks some humility.
---

Blake plays Face-in-Peril for a good long stretch, looking spectacular and vulnerable as his streamlined torso is bent and twisted by the Red Menace — his skimpy white speedo offering very little coverage.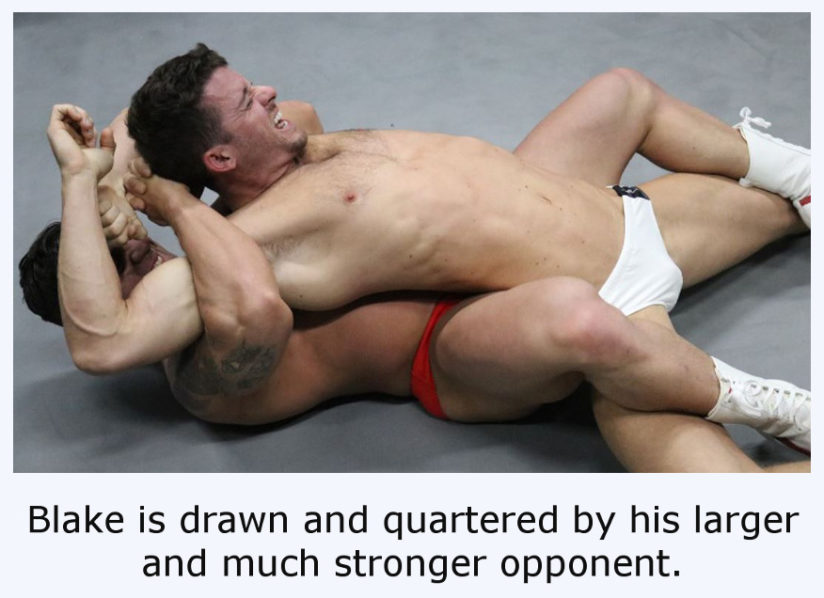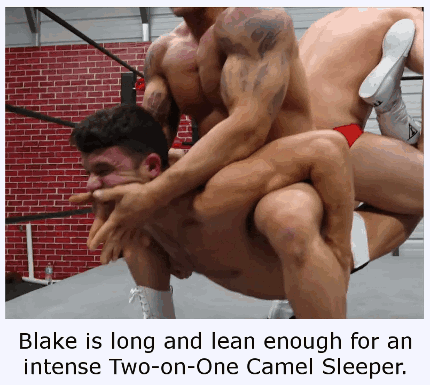 Austin and Braden perform some dirty two-on-one maneuvers such as this picture-perfect Boston Camel.  (However, I would've enjoyed even more double-team action — it's kind of my thing.)
Each time Scrappy threatens to enter the ring to rescue Blake, the Red Bullies tell him to get back in his corner, and he foolishly obeys.
---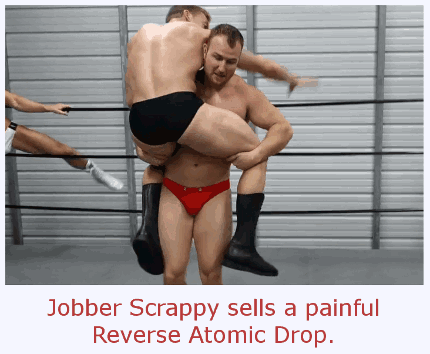 Eventually Scrappy tags in, but he gets his ass kicked too by the Townies in Red.  Check him out selling this painful Atomic Drop.
Austin Cooper is presented as the dominant ring general — the Man of 1,000 Holds who knows how to apply every classic rasslin move and maneuver.
---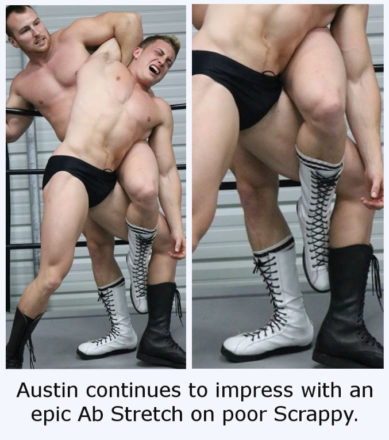 I'm always pleased by the Tag Team bouts produced by the underground feds and this one was no exception.  The Red Team really punished the Varsity Jocks with lots of hot moves, including a ton of strength moves and power presses by big Braden.  And check out those tall white boots on Austin — they're worth the price of the download alone.
As for the college punks, Scrappy's selling is always top notch, and Blake is so deliciously vulnerable and pretty — its good rasslin.
---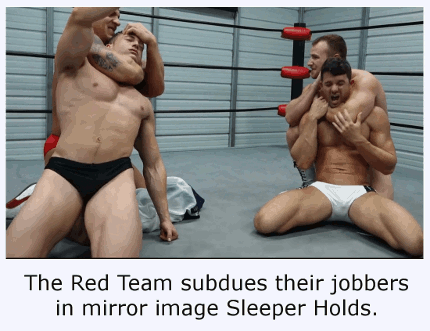 Then they perform matching Sleepers and I'm not sure where to focus my attention.  Oh well, I can watch it again and again, alternating between Scrappy's ragdoll humiliation and Blake's pathetic helplessness.  That's the beauty of Tag Team action — you've got more options!