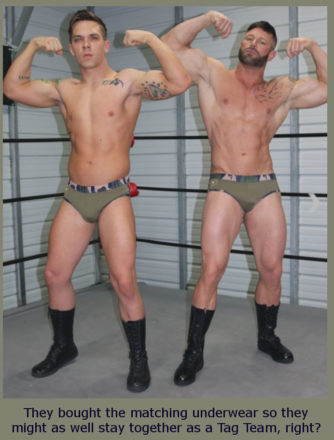 This new video available for download from the Wrestler 4 Hire website really struck a chord with me.  Truly A++ work — a masterpiece, really.  Let's just say I downloaded it earlier today and I've enjoyed it twice already if you get my drift.
These two flexing hotties in matching  briefs are Elite Eliot and Joey Nux.  They're apparently a Tag Team, thus the matching gear.  If you've been following this Blog, you know I'm a total slut for Tag Team wrestling from our beloved wrestle-porn producers, so I'm already loving this video.
---
I've named this Tag Team the "Big Gun Brigade."  It has a military feel, just like their army-issue briefs, and they seem to be portraying Drill Sergeants out to toughen up their new recruit.  Their "Big Guns" might refer to their bulging biceps.
Their trainee is this tasty specimen in the American Flag bikini: Xander.  He is just spectacular.  What a great find by whoever found him, Yes Please!  He has no partner, so this is gonna be Two Against One, and I'm swooning here.
---
Elite Eliot seems to love two things in life: Scissoring and Hair Pulling.  He uses both repeatedly to subdue and degrade poor Xander.
I love when he snatches the fucker by that mop to Own him, then casually wraps his legs around to clamp on that Scissor!
---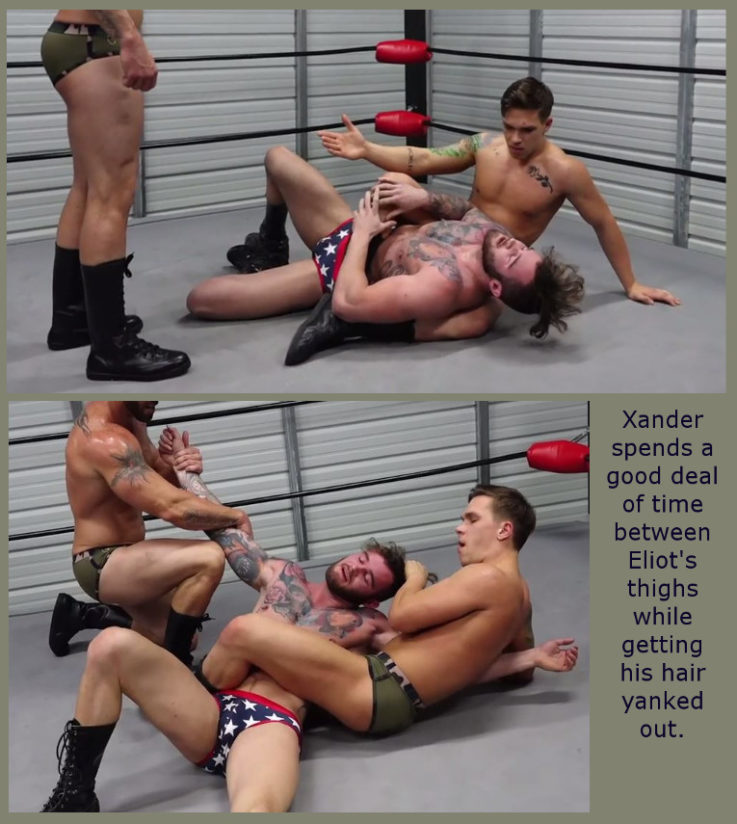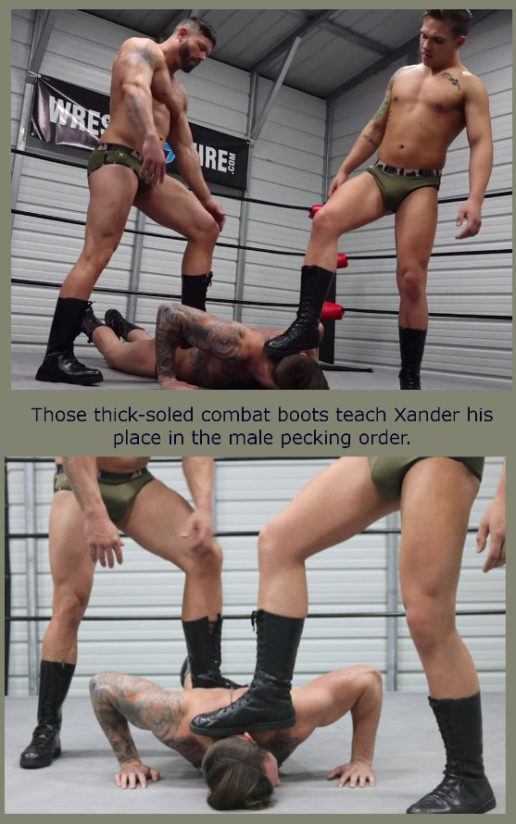 And let me say a word of praise for those thick-soled black boots these studs are all wearing.  Those are Combat Boots, right?  Not soft-soled wrestling boots?  I really want them to be heavy, harmful Combat Boots, so I'm telling myself that's what they are.
The Big Gun Brigade stomp and stand all over their recruit, and lock those big thick kicks together to Scissor him, and generally stomp around the ring looking butch and brutish in their boots.  I always figured I had a wrestling boot fetish, but as of today, I'm sure I have a Combat Boot fetish.
High marks for the gear.  All I ask from my wrestle-porn is that the Tag Team 's gear match, and that box is checked so I'm a satisfied customer.  That wasn't difficult, right?
---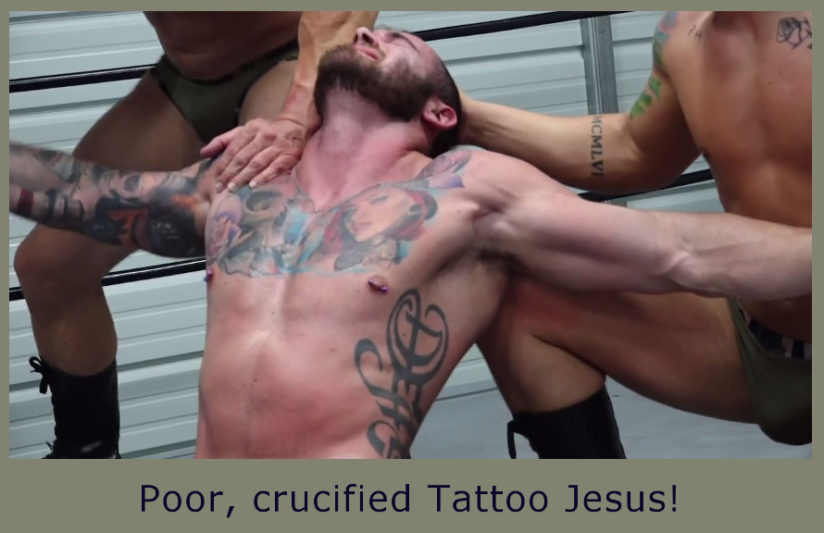 The Boss in the ring is clearly Elite Eliot, also the smallest guy in the ring.   He orders his partner around, he orders the hostage around, and everyone obeys him immediately.  Some guys just have that Alpha Male aura that makes you follow their orders, and Eliot's got it.
---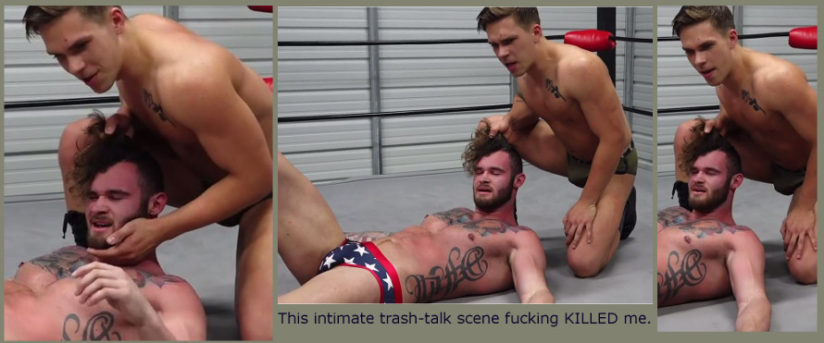 The premise of the scene is a little unclear– apparently Xander is the hostage or prisoner of war that the Big Gun Brigade captured?  Or maybe he is a new soldier that they're beating into shape?  One of you perverts must have a Drill Sergeant fetish so you ordered this as a custom match.  All I know is they're in the right gear, in the ring, looking swole and using sweet, sadistic pro wrestling moves so I'm 100% on board.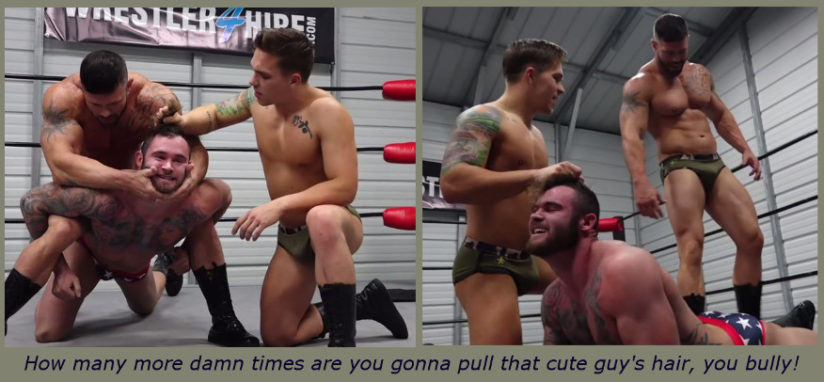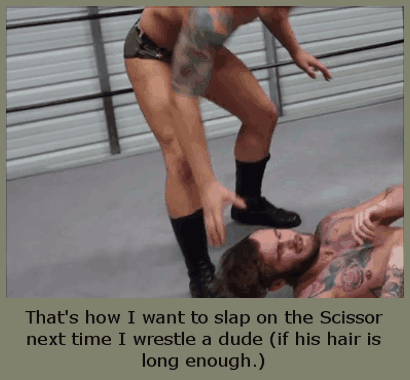 Eliot as the aggressive Heel is really a treat.  He assumes the right to snatch a jobber by the hair any time he wants.  And he keeps going back to those  black-booted Scissors which are so fuckin' pretty.
Am I going to have to go back and order every rasslin' video he's ever been in?  Oh well, maybe I can get a second job to pay for it — totally worth it!
---
Look what Eliot does here, snapping his legs to jostle the victim and pour on the pressure.  Does he know what it does to my brain — to my DICK — when he does sexy sadistic little things like that?!  As long as I'm getting that second job anyway, I wonder what he charges per hour to Headscissor you?
---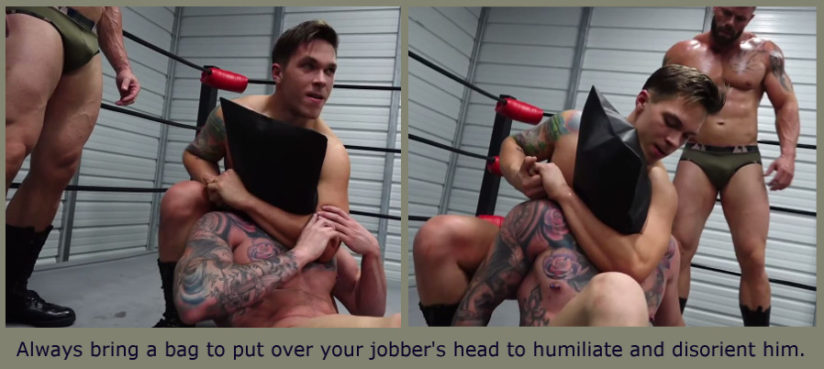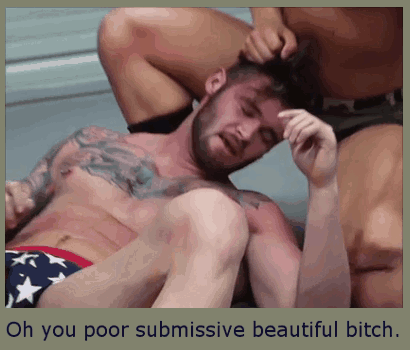 Xander acts amazingly obedient to his captors, especially Sergeant Eliot.  If he's told to do Push-Ups, he does them.  If he's told to say "Sir, Yes Sir," he says it right away.  His utter surrender and willingness to be dominated is very captivating.  Plus I think he's cute in the face, so I want to see more of him too.  Maybe I can get a third job…
---