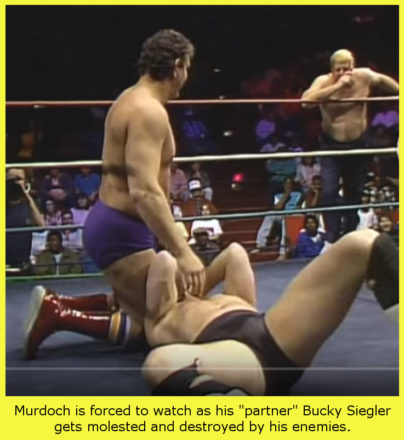 In this recent YouTube upload, Bob Orton and his partner Butch Reed were scheduled to squash two jobbers.  They challenge Dick Murdoch, apparently their enemy, to join the fight and suffer a beating.
Murdoch is a Real Man who never backs down from a fight, so he responds, "I'm cummin, Big Boy" and  replaces one of the jobbers on the ring apron.  What a strange situation — I'm intrigued…
---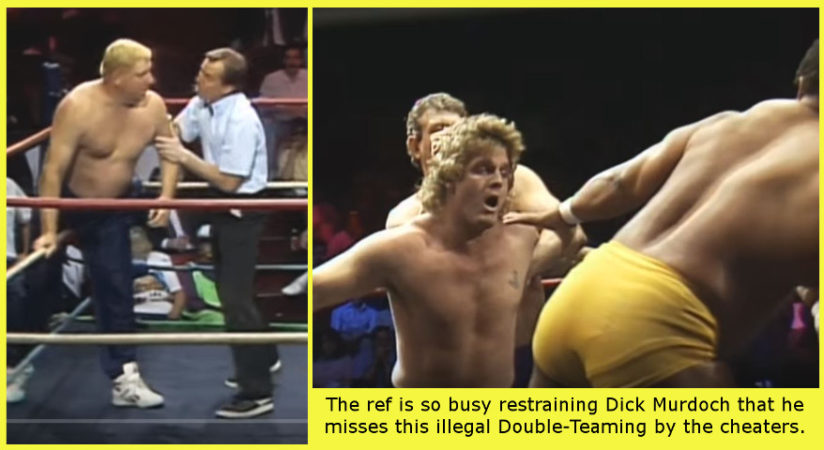 The great Dick Murdoch, Captain Redneck himself, has accepted a jobber named Bucky Siegler as his partner!   Does he not realize that Bucky is a weak, submissive pretty-boy whom everyone dominates and owns in the ring?   Murdoch must figure his strength and manliness will be enough to over-power both Orton and Reed.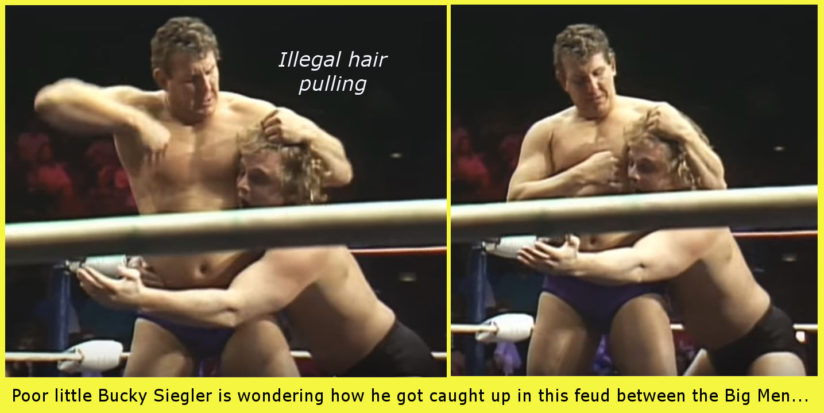 The Heels proceed to isolate Bucky Siegler and punish the fuck out of the jobber — it's wonderfully humiliating.  We see Siegler's trunks wedgied, face spiked into a waiting Heel boot, hair yanked while his face is punched, etc.
This beat-down is meant to humiliate Murdoch — not Siegler.  The psychology here is interesting:  what does Murdoch care if Bucky Siegler takes a beating??  He just met this kid.  Somehow by partnering with Siegler, the punishment by Orton and Reed attaches to Murdoch himself.  Unable to get in the ring, it's not Murdoch's fault if his team loses, yet he is degraded by association
---
Orton implements the Elbow Smash on the ring apron which was invented and often used by Dick Murdoch.  So Orton is actually mocking Murdoch here by stealing his patented move and using it on his own partner.
This is more great ring psychology by Orton, again using Siegler to torture and degrade Murdoch by proxy.  It is somehow more exciting than if Orton were punishing Murdoch directly.
---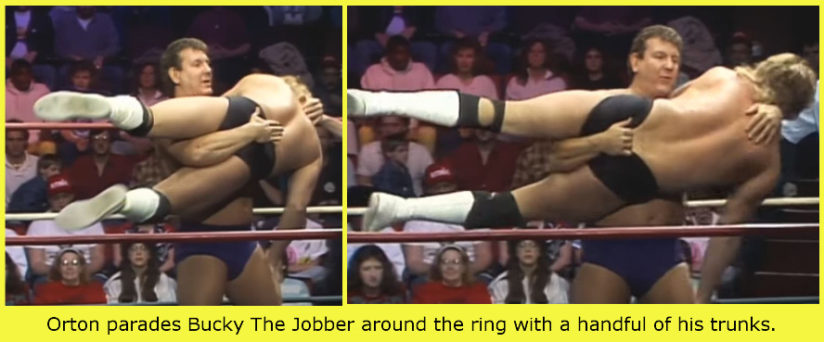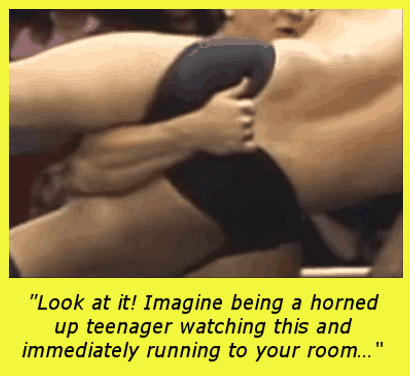 I just had to create this animation for my reader HJ, who is obsessed with the Military Press Wedgie often performed by Orton.  The jobber is hoisted over head, his trunks stretched above his ass to expose him.
You can read more about this move and HJ's love for it in my article, Public Revealings, Part 1 and Part 2.
---
You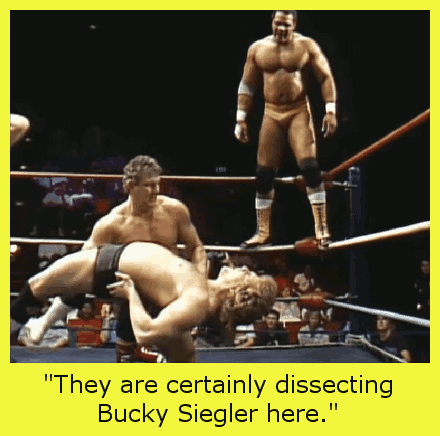 've got to feel sorry for Bucky Siegler, who was caught up in this hatred between Orton and Murdoch against his will.  Maybe this is what excites me about this scenario so much:  Siegler's unwilling participation.
They're just fucking murdering this poor kid for being in the wrong place at the wrong time.
---
Granted, Siegler would've been beaten down by Reed and Orton no matter what, but they're hurting him even worse just because Murdoch happens to be his partner.   If his fellow jobber had remained his partner, they would've split the Face-in-Peril duties, but with Murdoch in the Rescuer role, Siegler must absorb 100% of the abuse.
Plus he's so darn cute with his long curly hair and little black speedo that you just have to pity his suffering.
Butch Reed performs the old Double Boot Scrape to the eyes — always a turn-on for me.  And damn — Reed looks swole as fuck as he gazes over in Murdoch's direction to challenge him.
---
All good things must come to an end, and Siegler makes a hot tag to Murdoch — who storms into the ring to take control.
But the Heels surprise me by dominating and destroying Murdoch too!  Orton and Reed are studs.
Fuck yeah, Gary Hart!   Grasp Murduch around the waist to render him a big fat helpless Punching Bag!
---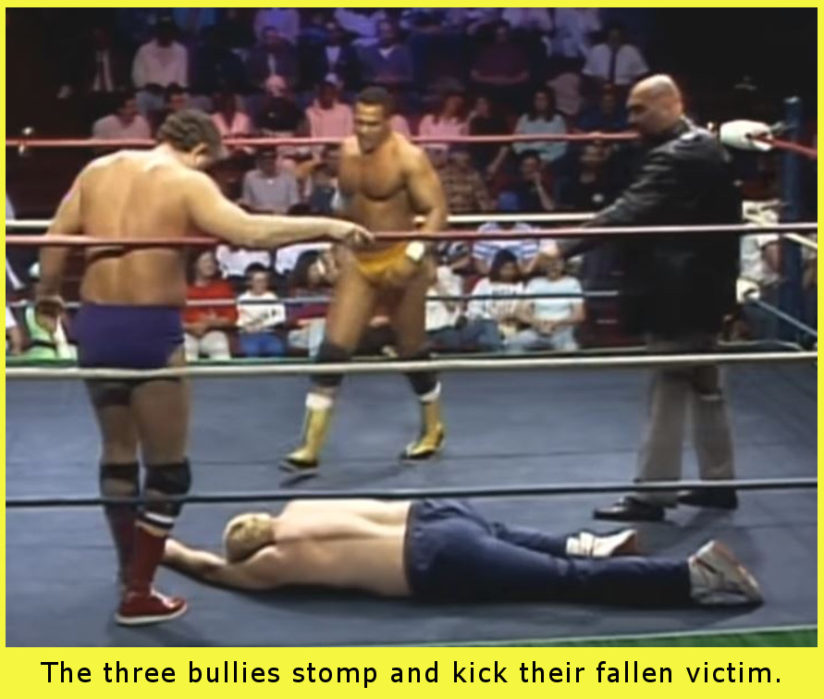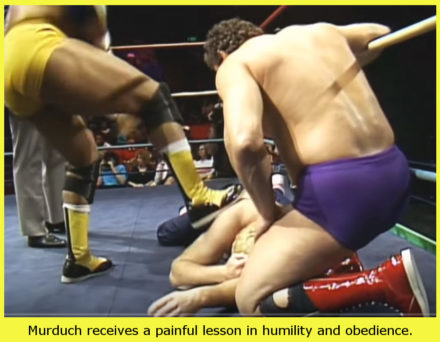 These three Bad Ass Bullies are everything, stomping and hurting soft-bellied Dick Murdoch like a jobber!  They are masters of ring psychology, making me both fear them and lust for them.  They make me want to replace Bucky Siegler in the ring against them, just like Murdoch replaced the other jobber.
---
BLOGGER UPDATE:
After I posted this gallery, my reader HJ, who loves the Military Press wedgie move so much, left a comment pointing out two women in the audience.  This is his other big obsession: female observers pointing and laughing at the emasculated, limp-dicked failures getting beaten and humiliated in the ring.
So I re-watched the video and captured the following animation of the clapping fans he pointed out:
"You know I love the ladies laughing at the jobbers. Look at the women like five rows up, one in black, one in blue shirt, clapping and laughing the second they see Orton exposing this pathetic pansy.
They like this shit more than I do."