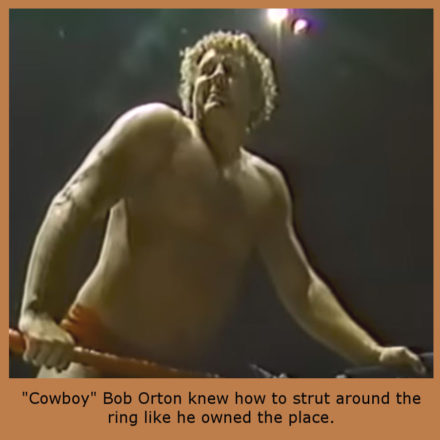 A Madison Square Garden event from 1986 that I recently enjoyed on YouTube included a hot match between "Cowboy" Bob Orton and Tito Santana.
The match lasted a glorious 20 minutes and Tito sold beautifully for most of it.  But the most shocking aspect was the frequent Ball Busting that these two studs unleash on each other.
---
Believe it or not, Baby-Face Tito is the first one to resort to a Nut Buster. He YANKS the big Cowboy's crotch right into the steel ring-post!   Paybacks are a bitch, Tito.
---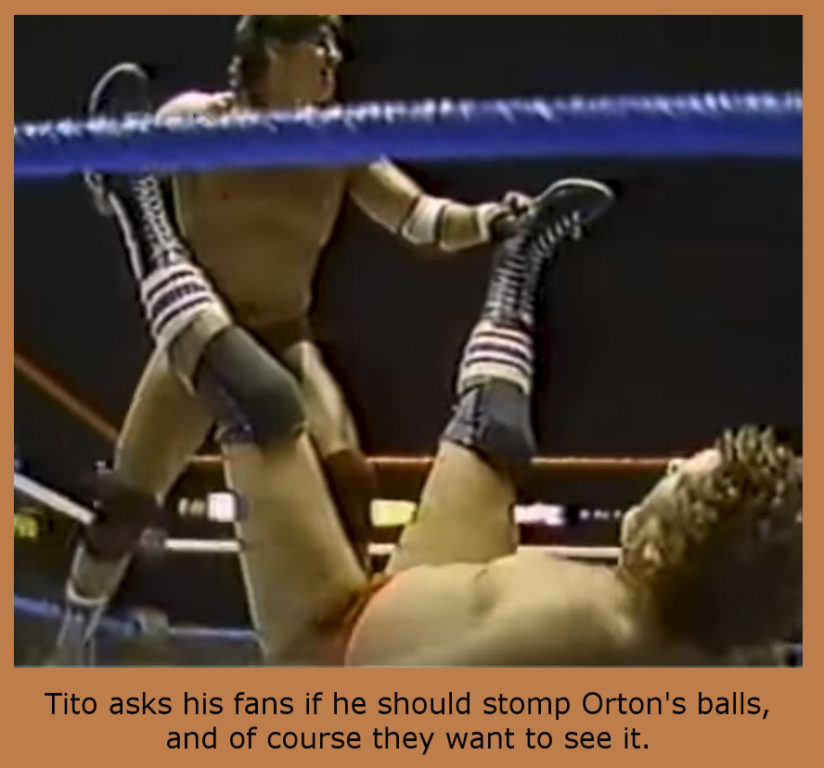 Orton retaliates when Tito bounces off the ropes, emasculating the Mexican hero with a Head-Butt to the cajones.
This nasty assault explains how the amazing and talented Tito Santana can be reduced to a powerless Rag Doll.  Even the strongest men are vulnerable to this cruel form of abuse.
---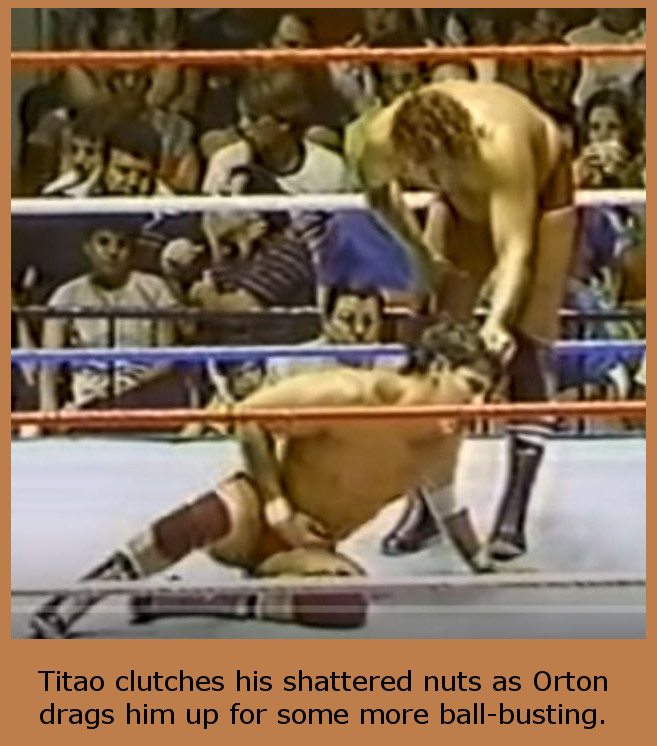 Here is a very painful and rapey looking attack — Orton snatches Tito up by the waistband, then drops a knee to his "abdomen area" — meaning his scrote.
And Tito suffers gorgeously as always, his face contorting in agony, his back arching upwards.  The camera work is excellent for 1986 — getting right in the ring to beam Tito's agonized face right into our living rooms.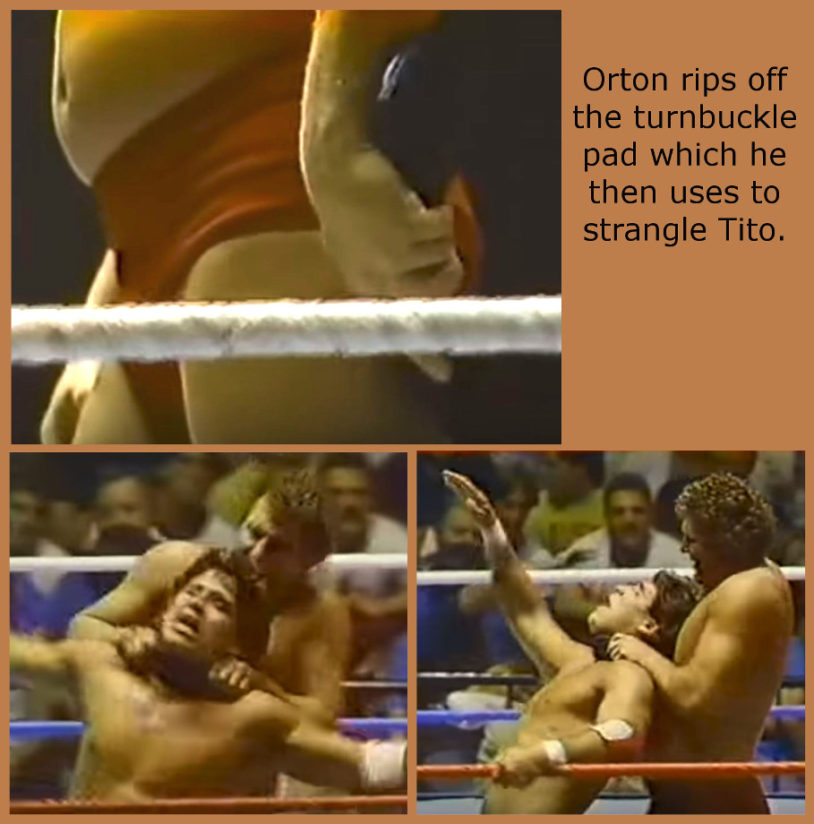 The commentator tells us Orton is going to "break a back" after he hoists Tito up with a handful of ass, but it actually appears that he's breaking some balls.
At least buy him dinner before you grope him like that!
---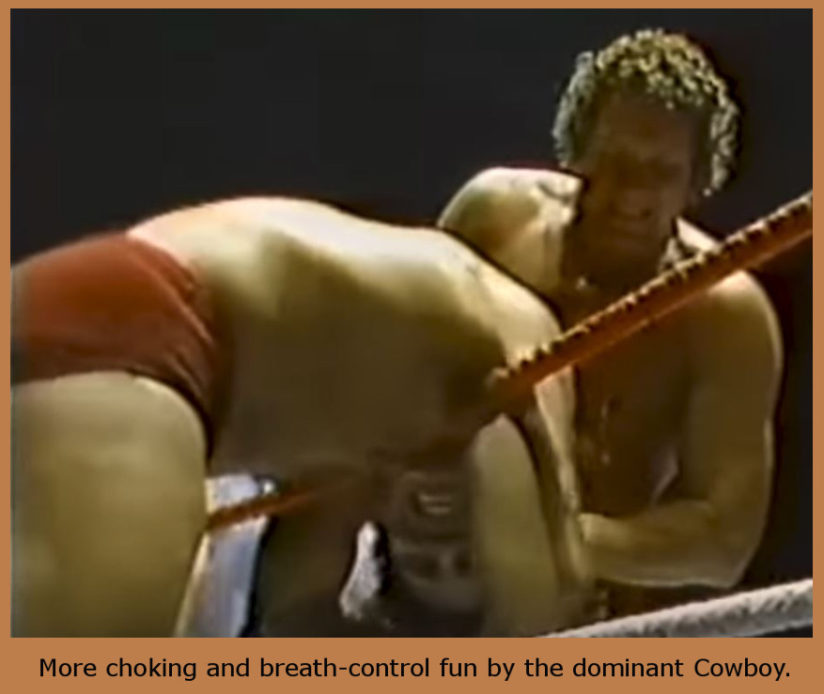 Orton seems almost too willing to receive some Cock-and-Ball Torture of his own.  Earlier he slid into position to allow Tito to rack him on the ringpost.  Now he climbs the ropes and slips off, with one leg heading North and the other heading South.
---
This Headlock scene was really wonderful, I recommend you go watch it — it went on for several minutes, with Orton flexing his arms and snapping on the pressure, and Tito growing weak and submissive the longer it lasted.  The visuals were really stunning and well-filmed.   I would've provided more images of Tito's Headlock Torture but this article is already getting long enough and is more focused on the back-and-forth Nut Busting than the beautiful Headlocks.
---
Another enjoyable side to Tito's suffering game is his loud expressions of agony.  He just yells out "OHHH" or "AAWWW" each time Orton busts him.  Here is how one of my readers described it the last time I blogged about Tito:
"Tito's grunts. groans and gasps for breath in his matches was a huge turn on. Seeing AND hearing him getting beaten up in the WWE was one of the reasons I realised I 'enjoyed' wrestling when I was young."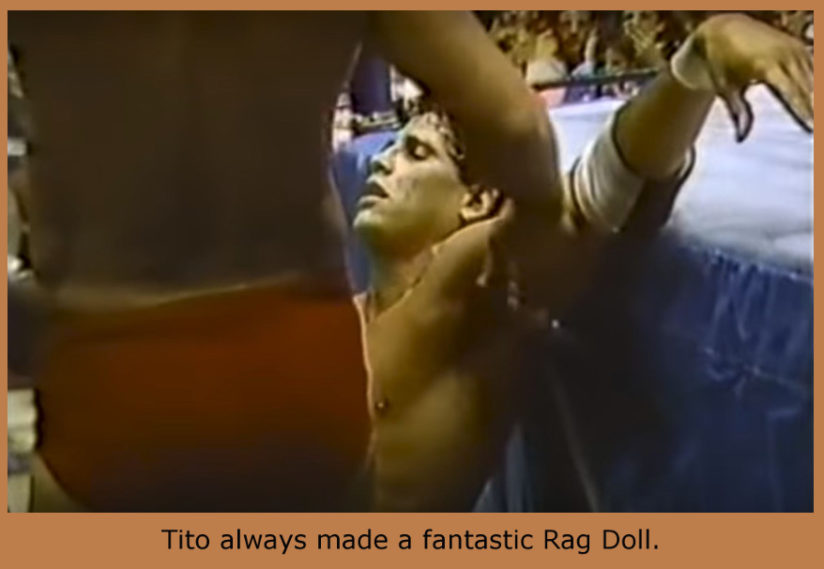 "I wish wrestlers today were as vocal with their pain, Randy Orton & Dolph Ziggler sometimes give out a few groans during matches, but nothing compared to Tito Santana."
Orton gives Tito a ride on the hard steel turnbuckle, the pad pressed into his taint.
---
All this nut-busting sexualizes the match, as if the two rivals are trying to prove who is more masculine and virile — who has the harder Balls of Steel.   It's as if they're trying to ruin the other man's sexual potential so he can no longer compete or present a sexual threat.
---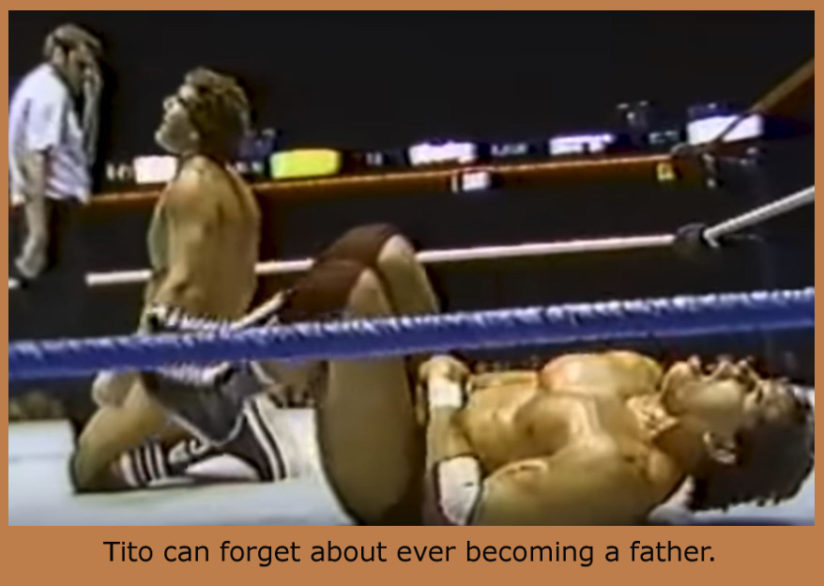 Correct me if I'm wrong, but guys into ball-busting as a sexual fetish seem to enjoy both giving and receiving, right?   They want to bust and be busted (and watch other guys being busted.)
As he flies into the corner, his legs straddling the top rope again, Orton's self-abuse seems to support this theory.   Yeee HAH!  Ride-Em Cowboy.  
---
So Tito sets up Orton for a Pile-Driver, but then just stands there waiting, with Orton's head positioned just below his ball-bag.
Orton suddenly raises his head to REALLY rupture Tito's manhood.  He really nailed him that time — Tito rolls around in the fetal position for a long white.
Damn these old timey wrestlers were brutal, or maybe they just had some kinky fetishes.