Roddy Piper squashes jobber Keith Larson in this classic video recently posted to YouTube.
Yes Piper uses a bunch of rough, aggressive offense to really punish this rookie, but what caught my eye the most was all the hair-pulling.  Look at him yank this chump out of the corner, "Come along, Junior — NOW!"
---
It is a convenient short-cut for the Heel, to be able to quickly put the jobber in position for the next move, using his hair to guide him.
But it's also fucking illegal, so it reveals that Piper will cheat to win and he is no gentleman.
It also sends a message of dominance, each hair-pull reminding the jobber that you own him.  It has to feel degrading for poor Keith Larson.
---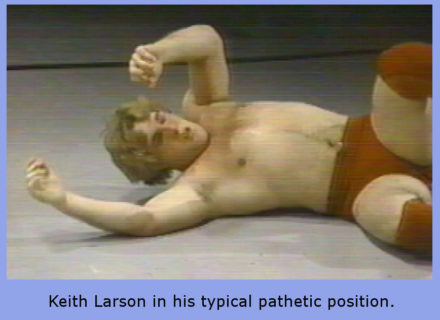 Larson was a good jobber-boy, always obedient, always clad in tight red trunks.  He kept his hair nice and long, giving his many over-lords a convenient handle to whip him around by.
I wrote about Larson and his life as a whipping-boy in my 6/21/2011 article.
---
I enjoyed this brutal looking move, Piper holding the hair to keep Larson's skull in a vulnerable position.
Then he roughly knees or hip-checks the jobber to stun him.  Larson sells it beautifully (he'd better, or Piper will REALLY harm him.)
---
I suppose hair-pulling seems so homo-erotic because of the sexual implication — the reference to controlling another man's head (and mouth) when he's kneeling before you, bobbing up and down.
Seeing Piper force Larson's face into the ring-post implies that he could force his face into other places.
---
---
Oh Keith Larson, why are you so submissive and adorably beatable?  And why did you never stop by my place in your red trunks and boots for an evening of rasslin'?
I wouldn't harm you as badly as Piper is, I promise, but I would probably pull your hair just as much.
---
Piper defeats Larson with a really rough, aggressive Sleeperhold.
I realize this does not fit with the hair-pulling theme of today's article, but it's a really hot Sleeper so I decided to include some images of it here anyway.
---
Piper was really into Sleeper-Holds, which is one reason I usually enjoyed his matches.
He was so violent with his Sleepers, grasping the victim around the neck, grinding and throttling, panting and grunting like a man striving for climax.
---
I wrote about Piper's obsession with Sleepers in my 4/18/11 article which includes lots of photos of him Sleepering dudes, and evidence that Piper loved to put regular Joes like you and me in his Sleepers as he travelled the country.
---
---
Anyways, back to the Hair-Pulling theme.  I want to finish today's article with some bonus images recently posted on Tumblr featuring another wrestler with a Hair-Pulling fetish, Randy Orton.
The next time you watch one of his matches, and he is in control, just count the Hair Pulls.  For example, I documented his relentless pulling of Dolph Ziggler's blond-&-pink hair in my 1/6/14 article called "A Late Christmas Gift."
---
Cody Rhodes does not have a long mop of hair, but Randy still loves to pull him by the hair to convey his dominance.
Note that Randy keeps his own hair tightly buzzed, giving his opponents no chance to dominate him like this.
---
---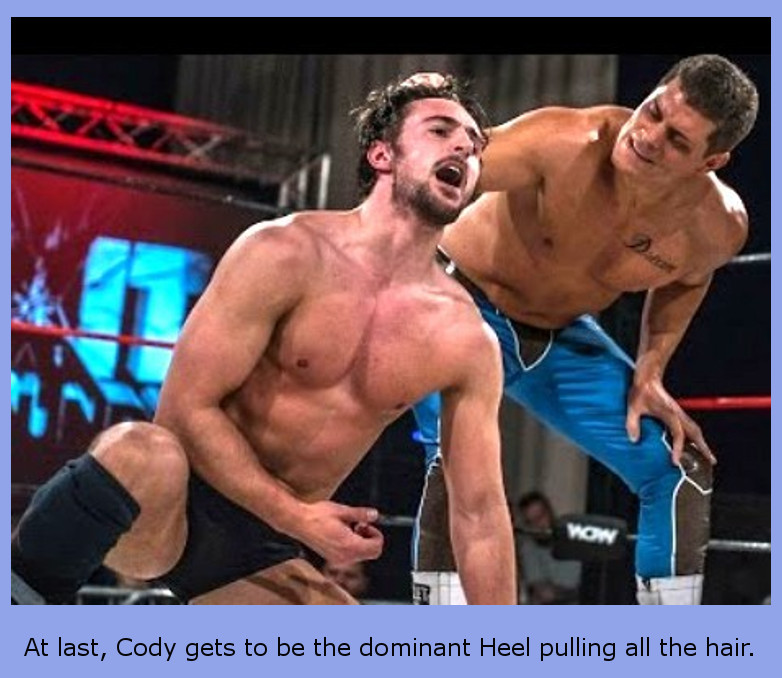 ---
---