I recently enjoyed this violent Tag Team match on YouTube featuring the Fabulous Ones battling the Guerrero ("Warrior") Brothers: Hector & Chavo.  I dig the Fabs' snakeskin trunks and white boots — my favorite look for them!
---
This bout is a "Mexican Death Match" which apparently means the fight continues, no matter how many pinfalls occur, until one team is defenseless — until they're at the dominant team's mercy.  Also the ref stays outside the ring for some reason.  And there will be blood.  OK those are the rules, here we go…
The Houston fans are red hot for Hector, screaming their heads off as he yanks Keirn's trunks up his ass to Piledrive the pretty Gringo's ass.
He and his brother Chavo will pay dearly for this transgression later in the match!
---
Hector wins the first fall thanks to that cruel Wedgie-Driver followed by a Splash.  He emasculates Keirn by kissing him on the face as he covers him, basically calling Steve Keirn his bitch.
---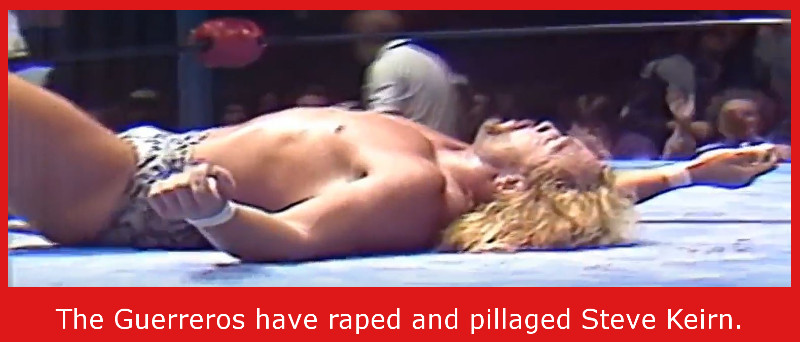 I can't resist backside views of the partner outside the ring — in this case, Stan Lane — pacing around nervously, propping his foot up on the rope, yelling: "Get the fuck up!" at his partner.
Maybe it's their matching gear, their revealing spandex trunks and tall white boots, that enthralls me so much at these moments.
---
Both of these Tag Teams are "Tweeners" — meaning they can portray Heels or Baby-Faces depending on the situation.  Given that this event is in Houston, where many Mexican immigrants have settled, it seems logical for the Guerreros to play the Helpless Heroes tonight.
Sure enough, when Chavo ventures into Heel Corner, he suffers an illegal Neck Snapper on the top rope, followed by some stiff stomps from the cocky blond Heel.  The Fabs are playing the role of the conniving Dickheads, and looking great doing it.
---
Things get brutal as soon as the Fabs gain the advantage.  Keirn claws and bites Chavo's face like a savage dog and the violence is starting to get to me.
Chavo begins to bleed, the crimson trickle down his face and chest further exciting the audience.
---
A viewer of the YouTube video left a really good description of the match that explains the excitement of this epic battle:
"This match was Absolutely Incredible! It was Brutal, Bloody all the way around, had a Special Chemistry that the Crowd picked up on, had Tremendous Movesets. 
---
Wonderful Old School Tag Team Psychology such as the Double Team Moves, along with Cheating and taking advantage of situations without the Referee being able to see it by The Fabulous Ones, Amazingly Great Selling, and Edge of your Seat Drama!"
---
I got off on this beautiful Double OTK Backbreaker by Keirn.  He puts Chavo on display, shows his ass off, then breaks him over a knee, only to hoist his black-speedoed ass up and do it again.  What utter control and dominance — I lust for the Fabs as Heels!
The match represents Class Warfare with the dominant, privileged whites breaking every rule and shamelessly punishing this humble, powerless immigrant.  I'm sure the Mexican fans in the audience are red hot over this unfair cruelty, which then gets me hot too.
---
---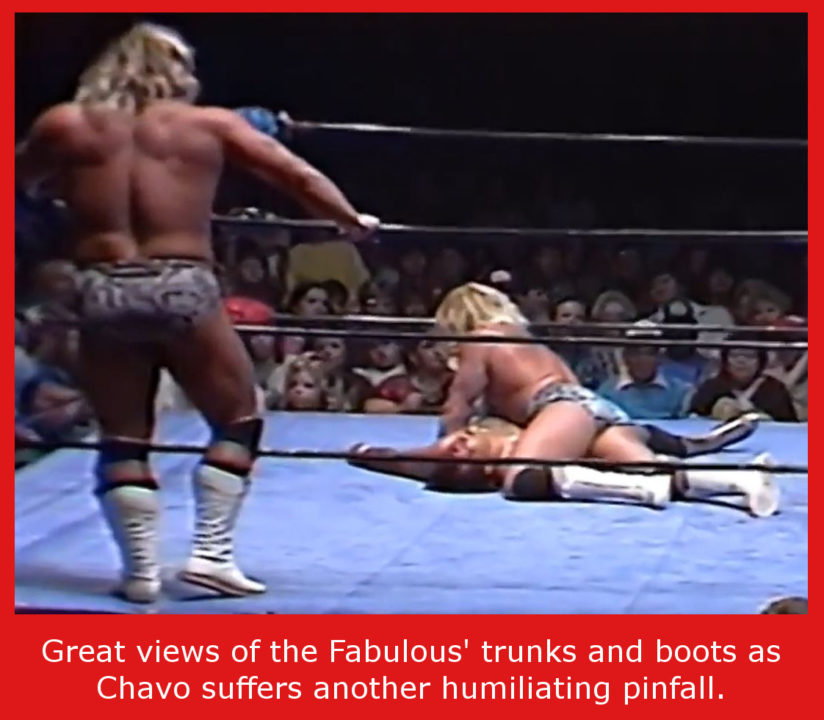 Chavo gets pinned numerous times in this match — I only showed a couple of the sexy looking ones.  Before he can even catch his breath, the dirty Fabs attack him again, kicking him while he's down, never letting him recover, never giving him a chance.  It's a nice violent pro wrestling mind-fuck.
Later the Fabs will get their hands on he beloved Hector Guerrero and work him over good too.  I will save that for Part 2 of this write-up.
To Be Continued…