I saw this Adrian Matthews match on the 9/23/17 episode of WCWC and I was debating if I should blog about it.  Matthews is spectacular as usual in his little black bun-huggers and tall white boots!  But his opponent — Tommy Purr — plays a prancing queer stereotype and I didn't want my readers to feel like gays are being disrespected by this sissy Heel.
---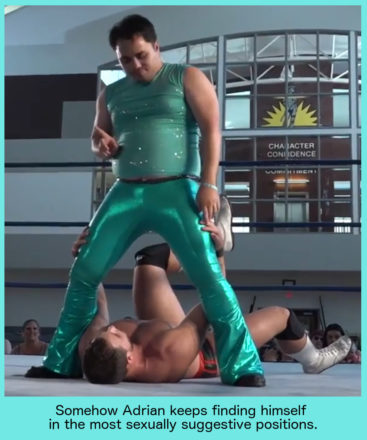 The "Sin City Kitty" Tommy Purr looks chubby, flamboyant, and gorgeous in his shiny aqua pants and bedazzled tank top.  What a sexy Sissy Heel he makes!  He is entertaining and exciting as he struts smoothly around the ring  using nasty assaults such as wedgies, bitchy face slaps, and kicks to the gut.
Of course, having a possible gay dude in the ring with an attractive young stud like Adrian Matthews always teases the possibility of a sexual assault.  Adrian is so hot, the gay guy will never be able to control his urges, right?
---
A couple days ago, one of my loyal readers emailed me to inform me about this "hot match" which mirrored my own reaction.  His enthusiasm encouraged me to blog about it after all.  My reader (and I) enjoyed seeing Matthews pause to imitate his queer opponent with a flamboyant victory pose.  My reader described it as "queer baiting":
"I found this hot video of Adrian Matthews looking so good and doing a little queer baiting against The Sin City Kitty Tommy Purr.  Adrian mocks and imitates Tommy a little in this match.  Actually looks pretty good doing it."
---
Queer baiting has two main definitions in Urban Dictionary and both can apply to this situation:
(1). When a politician, pundit, or other public figure brings up a person's sexuality, true or untrue, as a way of subtly channeling homophobia to attack them.  (As if Adrian is calling out Purr's gayness so the straight fans will despise Purr even more.)
---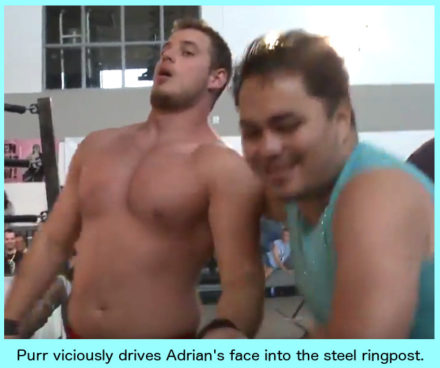 (2). When an author, director, etc. gives hints and clever twists to paint a character as possibly queer, to satisfy queer audiences, but never outright says they are so they can keep their heterosexual audience.  (As if Adrian is prancing around to subtly flirt with his gay fans, causing them to lust for him even more.)
So either way you look at it, Adrian Matthews is definitely queer baiting when he prances around and poses flamboyantly for us.  And I'll gladly take the bait.
---
My loyal reader also noted the sexualized punishment that Adrian endured at the hands (or paws?) of Tommy Purr in this match, with the focus clearly on Adrian's crotch region:
"Poor Adrian suffers a couple of wedgies and an ass slap, also one low blow."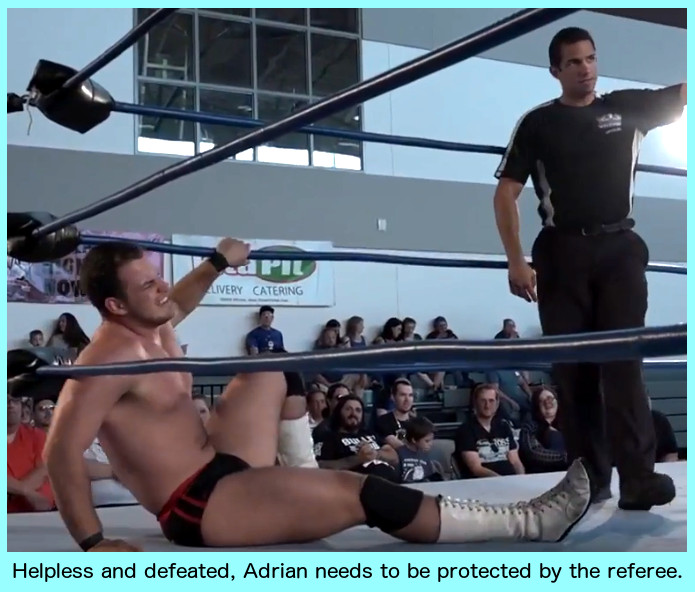 ---
By coincidence, the same day I posted this article (10/4/17), my fellow blogger at Beefcakes of Wrestling also posted a photo tribute to Adrian Matthews.  I guess that'll happen when two bloggers focus their articles on the very highest grade of pro wrestling beefcake.
Here is one of his images, focusing on Adrian's "tight, shiny ring trunks."  Adrian has lifted Caleb Konley into Suplex Position and decides to hold him there a while, giving us a good look at their bodies, their trunks, allowing us to contemplate Konley's peril.
This is really the whole purpose of pro wrestling — giving the audience permission to gaze at the male physique without fear, judgement, or retribution.
---
Purr may prance like a sissy, but he is presented as a devastating and dangerous killer like an Adrian Street or Adrian Adonis (ironically, the wrestler named "Adrian" is the straight man in this match.)  Purr is very rough on the pretty-boy, slapping him stiffly, stomping him with those thick-soled work boots.  It's nasty and sexy and painful looking!
Like most of these Hot Stud vs. Chubby Queer Heel matches so common in pro wrestling, the hot stud suffers at the hands of the fatter, weaker, less masculine attacker.  Adrian acts submissive toward Tommy Purr, letting the "kitty" dominate and abuse him, and that gets me so DAMN turned on.
---
Here is a good example of Adrian putting over Purr's bitchy style of fighting.  Purr removes his glove to slap the pretty-boy across the face (again), and Adrian flops for him.  He collapses as if Purr had struck him with a sledge hammer.  Talk about queer baiting, it is Adrian's hot selling that is baiting me to love WCWC!
---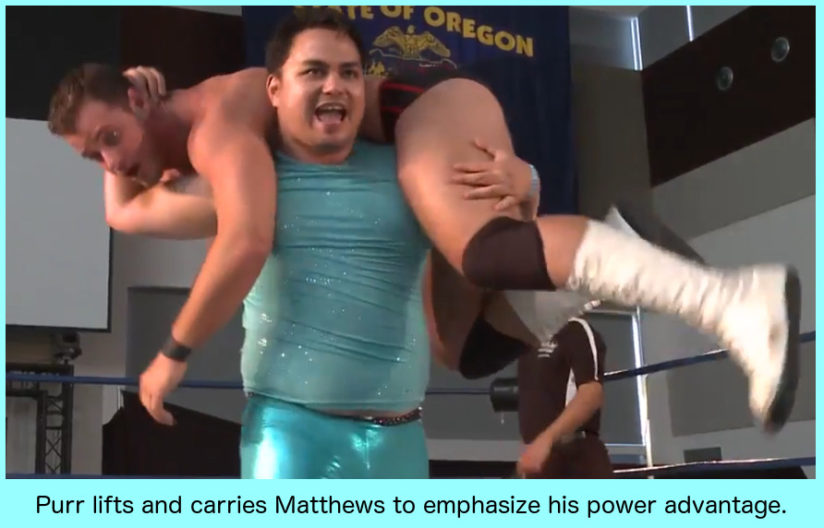 ---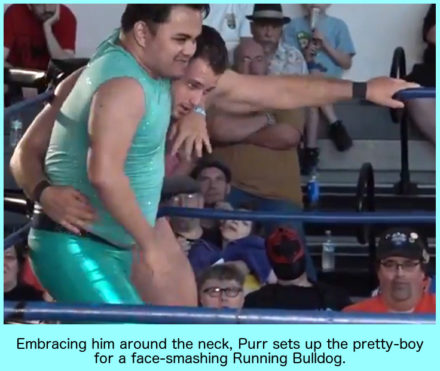 Usually the Running Bulldog move is reserved for a high-flying young hero like a Barry Windham.
Usually if a Heel like Tommy Purr tries to utilize the Bulldog maneuver, the victim will slip out and make the fat clown flop on his ass.   But Purr flips the script with a successful Bulldog!
---
Purr's delivery of the Running Bulldog is really great, and Adrian sells the fuck out of it.  Purr's excess body-weight made the move seem even deadlier.  These guys are both really well trained and understand their respective roles as Killer Queen Heel and Helpless Eye Candy.
But eventually, Adrian re-asserts his masculinity and verifies that he ain't no bottom by winning the match using his "Adrenaline Spike" move.