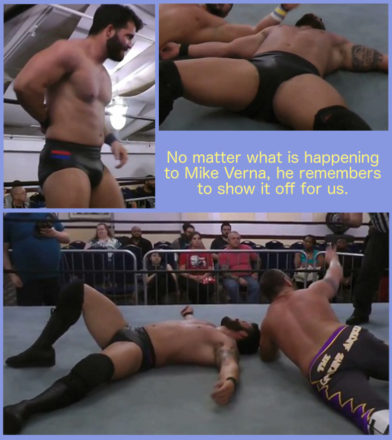 The "He Is Out!" blog was spectacular in July.  It is spectacular every month if you're obsessed with pro wrestling, but this July's galleries really pressed my buttons.  I don't think it was the summer weather alone that had me feeling so hot.
A few weeks ago, I recapped his July 12th article that featured muscle-hunk Mexx.  Here is some more of He Is Out's best work from the latter half of July, starting with the well-endowed Mike Verna in silky black trunks.
---
Well this is what you get if you strut around displaying your huge bulge.  Other guys feel jealous and want to emasculate you.  Here we see Verna's butch opponent — Shawn Donavan — ruin him with a couple of Knee Busters.
---
The July 15th article on He Is Out! featured Mike Verna in two separate matches.  In addition to his stiff beating from Shawn Donavan (see above), we also got to see Verna being wrecked by some 400 pound foreign beast in a Fat > Muscle match.
---
This is why I am obsessed with "He Is Out!"  He has a knack for finding and capturing the best moments of destruction and humiliation, condensing the match into a few key scenes.  For example, check out Verna being utterly smashed under this monster's big ass.
---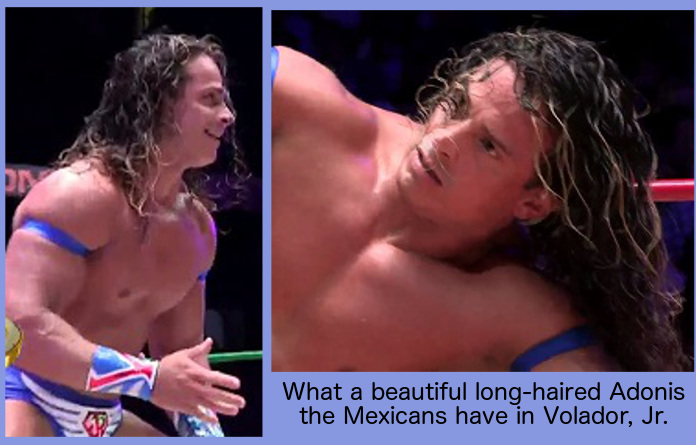 I've been lusting for Mexican luchador Volador for a long time, so I was happy to see He Is Out! provide some sexy Volador suffering in his 7/18/17 gallery.  I wrote about Volador's unmasking in my 10/10/13 article and have loved this hunk ever since.
---
Here is Volador being stretched out and put on display.  He needs to thrust his hips up and arch his back — it looks sexier that way.
I enjoyed the brief close-up image of their white boots interlaced, shin on shin.  I got a thing for white boots.
---
Here is a fun WTF moment — the Heel whips our poor Volador at the ring barrier.  The agile stud then surprises us with a back-flip over the fence like Ric Flair used to do over the ropes.  THIS is why you pay extra for the front row seats!
---
I don't know much about this Chris Tyler, featured in the 7/21/12 article, but I know I like his bulgey trunks with the white accents pointing toward his package.
Tyler's opponent in the purple pleather pants is a talented killer.  He owns the match, flying around the ring while blasting Tyler with Skull Kicks and Sharp Shooters and other brutal looking assaults.  It must feel degrading for Tyler that this leaner, smaller dude is able to fuck him up and own him so easily.  This sense of failure and humiliation is why I (and the He Is Out! blogger) get off on pro wrestling matches like this.
---
Here is a good example of Ashley Dunn's fun, flippy offense.  He leaps up onto Tyler's shoulders then like Backwards Sunset Flips the dude.  Immediately he clamps his thighs on Tyler's neck and positions him for the next harmful maneuver.
---
I'm not sure what they call this move, but I've seen it before and I love it.  It's sort of a rolling Pile-Driver, with the attacker using his forward momentum to really fuck up the victim's neck on impact.  Of course Tyler is finished (and I'm hard) after that one.
---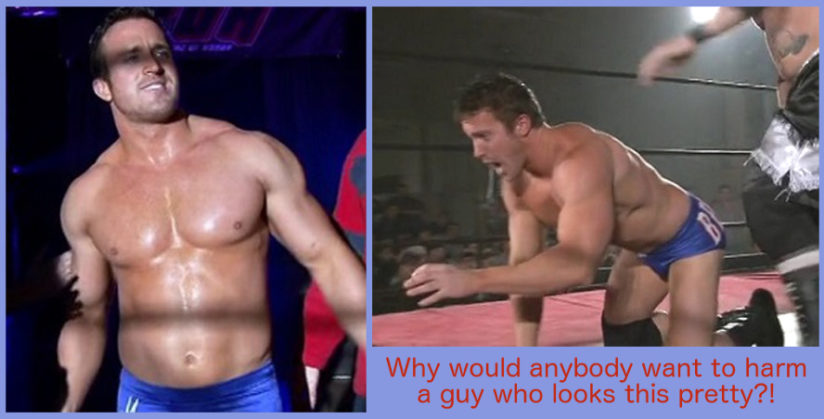 Mike Bennett suffered a painful beating from one of the Brisoe Brothers in He Is Out's July 27th article.  Bennett plays an arrogant Dickhead, so the point of the match was a lesson in humility, doled out by the less attractive Everyman.
Wrestling fans like me are just happy to watch the hotter opponent suffer, regardless of the situation or back-story.
---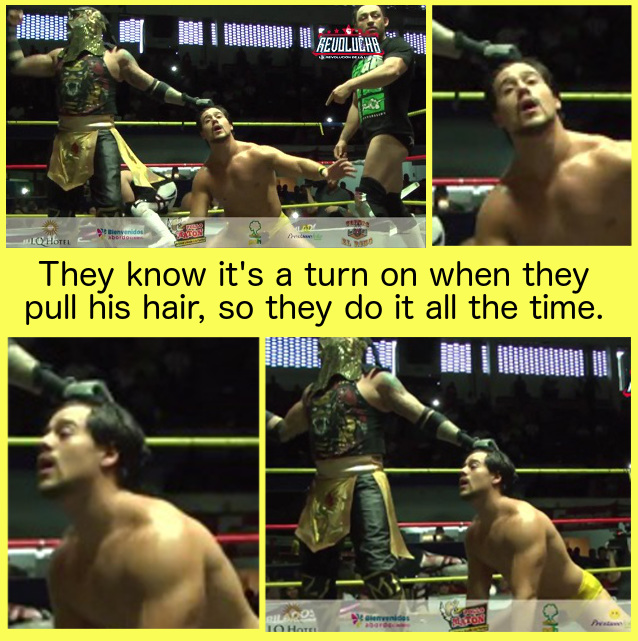 I've been meaning to blog about Garza Junior for a while now and He Is Out! beat me to it in his 7/27/17 posting.  Fairly new to the Mexican wrestling scene, Garza Junior is causing quite a sensation with his skimpy little speedo trunks and fit physique.
---
You may recall me blogging about a Luchador named Hector Garza, a really attractive Latin heart-throb who loved to strip in the ring, peeling off his pants to reveal colorful little bikini wrestling trunks.  Garza Junior (his nephew?) has adopted that same gimmick.
---
One of my readers described Garza Senior as follows:  "Hector Garza always made me rock hard with his combination of dark Mexican skin, very handsome face, bright trunks that were too small for his juicy ass, and his overall tough guy demeanor and Latino bravado."
---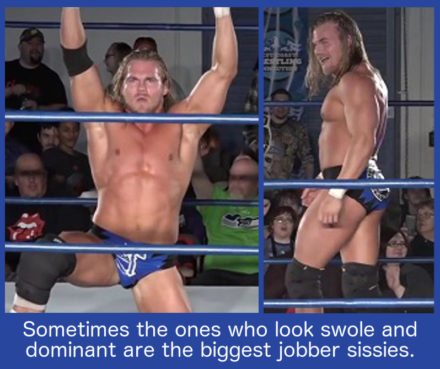 And He Is Out! wrapped up July with scenes of this buff viking — Hammerstone — taking a painful beating.
Usually we see this swole beast dominating his smaller opponents, but He Is Out! found this rare example of Hammerstone playing the vulnerable weakling.  What a turn-on!
---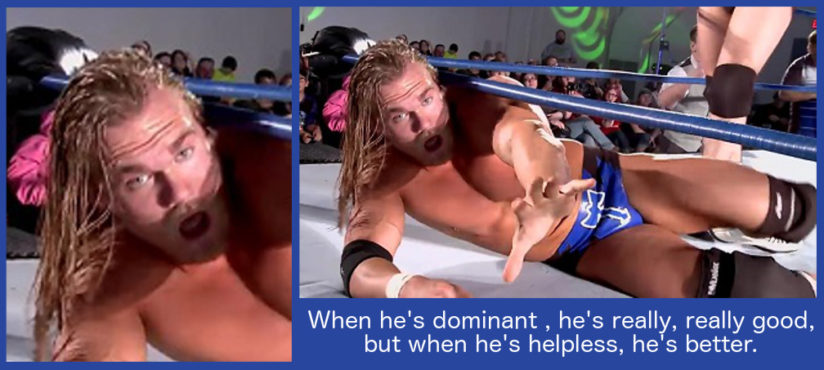 Let me conclude by thanking He Is Out! for another amazing month of sexily beaten wrestlers.  We got to meet some new spank-bank talent like Chris Tyler and Garza Junior, plus re-visit some of our old Sure Things like Mike Bennett and Mike Verna.  Keep up the great work, Tetsuya!