This article continues my recap of a classic Tag Team bout recently posted to YouTube.  The Beefy Heel Team — Johnny Rodz and Jose' Estrada — have captured a cute body-builder named Rick McGraw and brought him back to their dungeon — I mean, their corner of the ring — where they inflict all sorts of torture and abuse.
---
The referee — I think his name is Lou Supa — is about 82 years old and totally clueless.  I love him — he is perfect.  He never says or does anything, no matter how much Estrada and Rodz break the rules.  The commentators begin to comment on Supa being "out to lunch" and missing all the dirty moves, which only makes me hornier.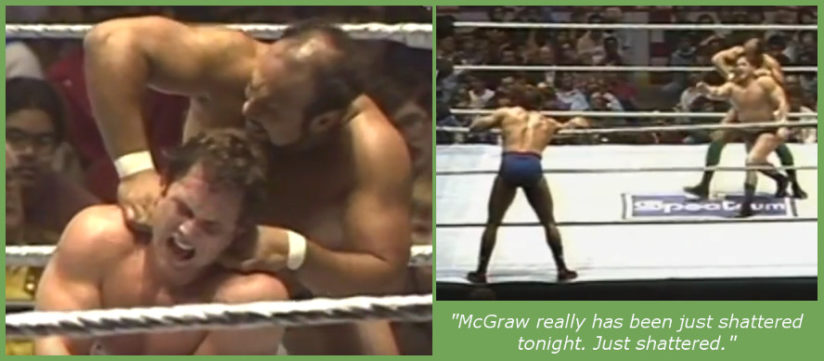 Estrada treats us to a strength-sapping Nerve Pinch, working his fingers deep into McGraw's thick neck muscles to weaken and paralyze him while Martel watches helplessly in the near corner.  The commentator — Kal Rudman — does a great job keeping us boned up on this match with his colorful descriptions and cock-stirring adjectives, as quoted in my captions.
The Green Team work together to slam the weakened Muscle-Rick, with Lou Supa out to lunch again, arguing with Martel across the ring.  Then Rodz drops a huge Elbow onto McGraw's throat to finish him off.
Kal Rudman utters the epic line that inspired the title of this article: "This is legalized murder!"  Statements like that really got to me as a youngster watching wrestling (and still do.)
Then I'm shocked to see Rodz pin Rick McGraw for the victory!  I couldn't believe that Rodz and Estrada — who were chronic jobbers in spite of their impressive bulk and obvious talent — had actually defeated the Muscle-Ricks!  But then I realized this was a "Best of Three" match and there would be a lot more Tag Team action to come (YES!)
Rodz and Estrada celebrate their first-fall victory, and they look so damn hunky and beefy, hugging on each other and leaning on the ropes, smirking in satisfaction like a pair of dominant daddies.  If you resemble Johnny Rodz and you've got a buddy who looks like Jose' Estrada, send me your location.  I've got a couple pairs of green trunks that I'll pay you guys to try on for me.
The match continues for two more falls, and you can guess which team wins, but the first fall was the best because of the Green Team's dominance.
Here are some highlights from the second and third falls, starting with Martel and Estrada locking up for a sexy Greco-Roman Knuckle Lock.
---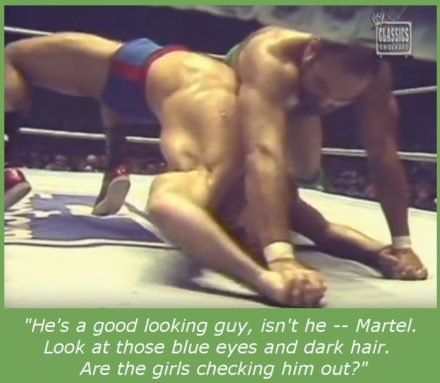 Martel uses this opportunity (every opportunity) to show off his buff physique and big cock, bridging and flexing as Estrada forces him down.
Kal Rudman periodically speaks up to remind us of Martel's good looks, wondering how excited "the girls" must be feeling to watch this hunk in action.  Take a deep breath, Kal.
---
Estrada plays the Heel in Peril during the latter rounds as the Muscle-Ricks man up and begin using some brutal tactics of their own.  Of course it's OK for the Baby-Faces to get sadistic because of the punishment they endured earlier, and because they're "good looking guys."
I've always liked this vicious little Double Knee Knocker, inflicted by McGraw late in the match.
---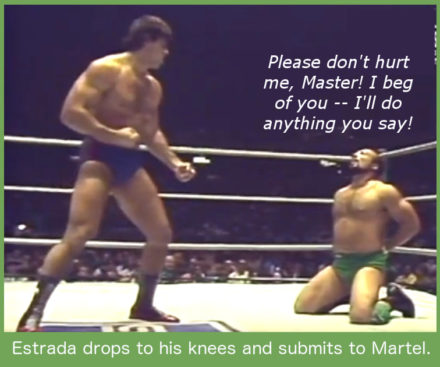 This was a well-d0ne exhibition of the classic Tag Team formula: Babies shine, Heels cheat, Babies fight back and take revenge.
It was also a nice study in contrasts: old vs. young; minorities vs. whites; green vs. blue; beefy vs. buff; cheaters vs. good boys.  And everyone involved is great at what he does — especially Kal Rudman.  And Lou Supa too.