The video of this Indy match from "GCW" was recently posted to YouTube. The wrestler to your right facing the camera is Corey Hollis, who usually plays the cute young Baby-Face (for example, see my 1/31/14 gallery.)
Now Hollis is in the role of Veteran Dickhead, bullying the rookie in white trunks — Dylan Cook.
---
The gimmick behind the match is Hopeful Newbie vs. Brutal Veteran, and Former Partners Now Turned Enemies.   Also they mention that these two are cousins, so they've probably rassled each other lots of times — woofing down their Thanksgiving turkey so they can go out behind Nana's barn and roll around in the grass every year.
---
Hollis takes control over his little cousin with this nasty move — using a handful of those whitey-tighties to run the poor kid's shoulder into the corner post.  Dylan gets dragged around often in this match, by the hair, by the trunks.  He seems comfortable doing this, as if it's second nature to let his cousin control him.
---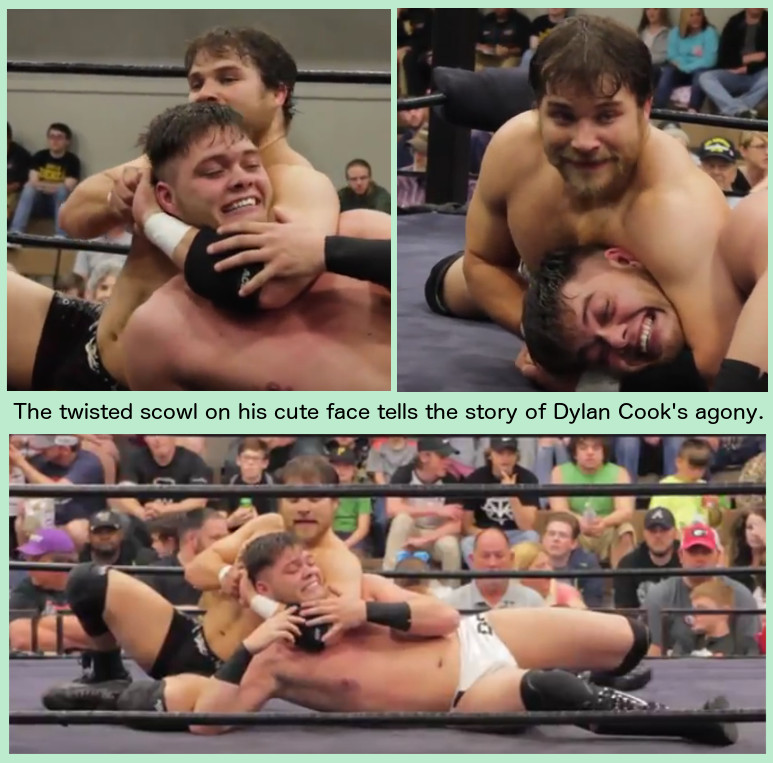 Hollis wraps up his cousin in a couple of beautiful, long-held Headlocks, and Cook sells the pain expertly, looking all agonized and scowly-faced — it's really beautiful.  The camera gets right in there.
Here Cook had tried to escape, so Hollis cranks on the pressure tighter and says simply, "Nope" like a fuckin Boss.
---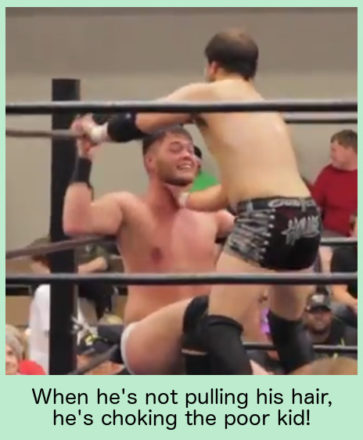 Dylan Cook's nickname is "Dream Chaser" which is adorable — as if he's a lovable Disney hero like Alladin or the Lion King.  I called this gallery "Dream Crusher" to play off that sweet nickname and to present Hollis as the spoiler, ruining the rookie's hopes and preventing him from moving up the ranks.
But in truth, Hollis is putting this kid over just by wrestling him and torturing him for a long duration.  We fall more in love with Dylan the more he suffers, and Hollis knows how to Heel all over this kid to make our hearts bleed for him.
---
Look at this ragdoll in his little white undies, just lolling on the ropes and allowing his big cousin to pounce on him.  Hollis pops a squat on his victim's back for a moment, riding on him and casually leaning on the ropes so his body-weight strangles the poor kid.
---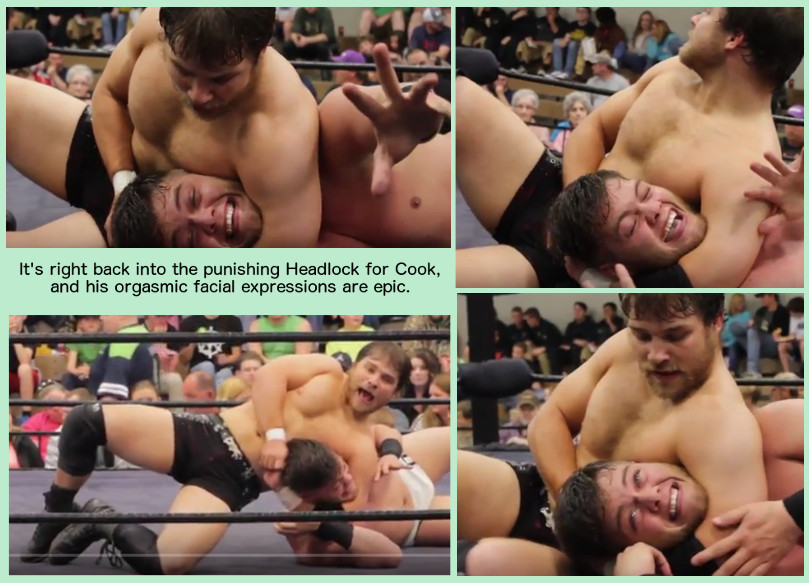 Here is a message Dylan posted on his Facebook page for his former friend:
"This past Saturday night, I teamed up with my best friend in a Tag Team tournament.  We won the match and advanced to the next round.  He then took action, turned his back on me, and beat me up so bad that I couldn't even walk away on my own!!!"

---
"You say you don't want me using your name to get to the top of the wrestling business, and you say you're coming back March 25th to remind everyone who Alabama's Favorite Son really is.  Well all I need you to know is the only name I'm going to use to make it to the top is mine, and on March 25th in Pell City, I'm gonna make you wish that you never came back home!!!"  
Really — how is that working out for ya, Dylan?
---
They perform a fun series of these Flying Clothesline Smashes in the corner.  Cook is broken but unbowed, slowly struggling to his feet like an injured bird fluttering around trying to take wing.
Then POW! — Hollis nails him with yet another Clothesline to waste him again.  Lather, rinse, repeat.
---

After some cheating, Hollis knocks the kid out and pins him in this Wide Legged Pinning Position.  And THAT is how you crush the Dream Chaser's dreams.
This is an entertaining performance by both competitors with a lot of great wrestling, some innovative holds, and solid ring psychology with younger cousin being bested by the bully, which is probably exactly what happened behind Nana's barn.